Neighborhood kids compete in spelling bee
April 1, 2009
/
/
Comments Off

on Neighborhood kids compete in spelling bee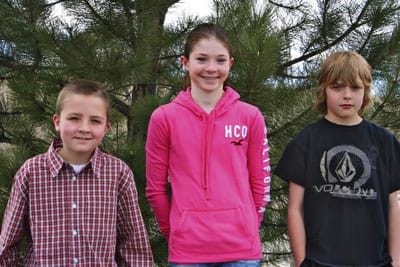 Castle Pines Community Spellers pictured above Bergen Templin (TTE), Victoria Vanderpoel (RHMS) and J.T. Snowden (BRE). (Photo by Carin Kirkegaard)

by Carin Kirkegaard
The Castle Pines community sent three spellers to the Douglas County School District (DCSD) Spelling Bee on February 18 at Northeast Elementary School in Parker.
J.T. Snowden, a fourth grader from Buffalo Ridge Elementary (BRE); Bergen Templin, a fifth grader from Timber Trail Elementary (TTE); and Victoria Vanderpoel, a seventh grader from Rocky Heights Middle (RHMS).
"It was a great experience. I wish the best of luck to everyone in the spelling bee next year," said Snowden, BRE winner.
Vanderpoel was one of 20 finalists for the DCSD. She represented the district at the Colorado State Spelling Bee held March 14 at the Denver Convention Center.
Grades fourth through eighth from 56 schools competed in the DCSD Spelling Bee. The district bee is the culmination of a district-wide contest of spellers that began with spelling bees held in each individual school. The grand finale was the State Spelling Bee sponsored by the Denver Newspaper Agency.