Making waves in the fight against pediatric cancer
July 1, 2019
/
/
Comments Off

on Making waves in the fight against pediatric cancer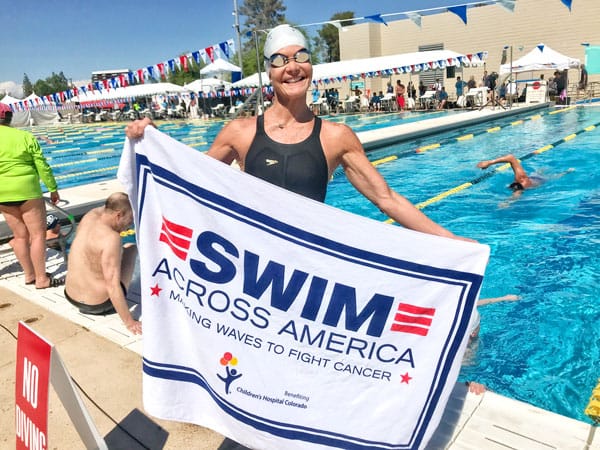 Nicole Vanderpoel before a pool swim for Swim Across America, which raises funds for the Center for Cancer and Blood Disorders at Children's Hospital Colorado. Inset: Vanderpoel (left) presented a $150,000 check to Children's Hospital Colorado Executive Director Elizabeth Nowak (right) at last year's fundraising event. This year's event will be August 25 with the goal of raising more funds for research projects at the Center for Cancer and Blood Disorders at Children's Hospital Colorado.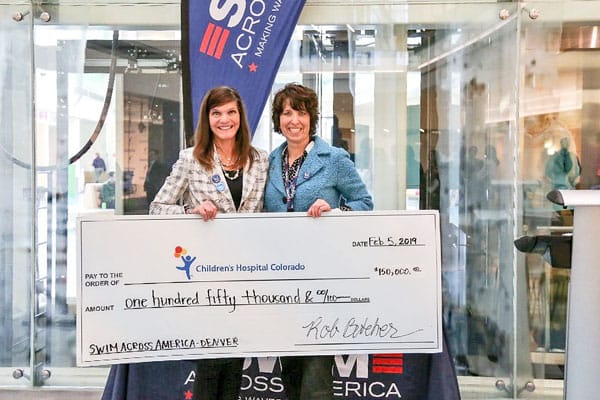 By Lisa Nicklanovich; photos courtesy of Nicole Vanderpoel
Nicole Vanderpoel's coaching career began more than 20 years ago from a desire to keep her kids and her Wildcat Ridge neighborhood kids safe in the water. Since then, Vanderpoel has coached swimmers of all ages and levels and now is the co-director for Swim Across America (SAA) Denver, which raises funds for the Center for Cancer and Blood Disorders at Children's Hospital Colorado (CHC).
Vanderpoel, a Whisper Canyon resident for 12 years, has coached girls swimming at Rock Canyon High School since it was newly built, coaching some of the same students she had coached as young children in their neighborhood pool. She also coaches U.S. Masters Swimming (USMS)and is the Colorado Masters state champion high point winner in her age group.
Nationally, Vanderpoel is a top ten finalist at USMS and has competed at nationals for 20 years. She has been a board member of the Colorado Masters Swimming Association (COMSA) for the past 10 years and currently is the long distance pool chairperson for COMSA. Last year, Vanderpoel swam the English Channel in a four-person relay. Try to get her talking about herself though, Vanderpoel will consistently steer the conversation away from herself and back to SAA.
"I'm passionate about swimming and about fighting cancer. I've lost many friends and family to cancer," Vanderpoel said.
Vanderpoel helped bring SAA to Denver and was the inaugural SAA Denver event director. She had a very successful first event last year, an open water swim at Chatfield's main reservoir, which raised $150,000 to fund two research projects at CHC.
This year's open water swim fundraiser event is Sunday, August 25 and swimmers can register for half-mile, one-mile, 5K or family-friendly balloon splash distances. "We have Olympians, including Missy Franklin and George DiCarlo, who are attending and swimming. It's fun for kids and adults to know these Olympians are swimming alongside them in the water," Vanderpoel said. "It is not a race, but rather a wonderful event where participants are swimming to fight cancer," Vanderpoel added.
Volunteers are needed in and out of the water and Vanderpoel encouraged the community to come to the event and cheer everyone on. "Swimming brings people together," Vanderpoel said. "It's a community effort, where parents have to be involved and volunteers are needed. It teaches kids discipline, keeps them healthy and builds friendships." While Vanderpoel's love of the water is clear, it's her passion for empowering young people that really comes through.
For more information on the event and to learn about the research being funded by SAA Denver, visit www.swimacrossamerica.org. To contact Vanderpoel email her at nicolevanderpoel@msn.com.