Mamas' Get Fit in Castle Pines North
December 1, 2006
/
/
Comments Off

on Mamas' Get Fit in Castle Pines North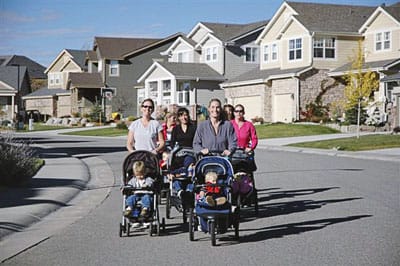 by Lisa Crockett
For many moms, having a baby marks the beginning of the end of a physically-fit lifestyle. One Castle Pines North (CPN) mom is working to reverse that trend.
"Fit Mamas is a group designed to allow moms who stay home with their kids to get up and get moving–without having to hire a babysitter," said Hidden Pointe resident and Fit Mamas Fitness Motivator, Cori Hancock.
Three days a week, the group she leads meets at Coyote Ridge Park, first stretching and lunging in the parking lot adjacent to the baseball diamond, then making their way around the perimeter of the park property with strollers and children in tow.
"This is really a great combination of fitness activities," said Betsy Mullison, a CPN resident and Fit Mamas participant. We do some cardio, some stretching and some Pilates-type stuff. Getting together with this group really holds me accountable."
Strollers are incorporated into many of the activities, allowing even very young children to be part of the action. Older children play nearby riding scooters or bikes at the park, or simply following the group on its rounds.
"I love that our children can see that we come to exercise; that it's part of a lifestyle choice," said Hancock. "It's great to see them come to the class and get involved, enjoying the activity and the sunshine."
Fit Mamas meets on Monday, Wednesday and Friday from 9 a.m. until 10 a.m., weather permitting. Young children are welcome but not required – all exercises can be modified to be performed without a stroller. Any type of stroller will work (no need to purchase a jog stroller if you already have a conventional one.)
Individual classes are $7 each, or a punch card good for 10 classes can be purchased for $50. For more information, e-mail Cori Hancock at corinnehancock1@aol.com or call 303-912-3788.