Master Association's Summer Concert Rocks the Park
August 1, 2008
/
/
Comments Off

on Master Association's Summer Concert Rocks the Park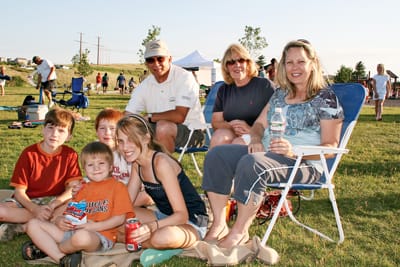 CPN residents, John and Margita Torres, enjoy their first "Concert in the Park" with their daughter, Angie, and grandkids, Dylan, Roman, Brianna and Lucas. (photo by Elean Gersack)
Boy Scout Troop 316 grills up meal deals for the crowd at the 2008 Concert in the Park. (photo by Tim Gamble)

by Elean Gersack
Reckless Abandon was back again for the 2008 Concert in the Park sponsored by the Castle Pines North (CPN) Master Association and Castle Rock Bank.
This annual CPN tradition attracted a record crowd on a beautiful July night. For the first time in years, the weather did not even hint at putting a damper on the evening.
Families came out with blankets, tents, umbrellas, and chairs and sat back for a relaxing evening. Kids ran back and forth between the bouncy castles and the park and even took a turn on the grass dance floor. Boy Scout Troop 316 busily grilled hot dogs and burgers and sold meal deals to support the troop camping fund.
Reckless Abandon started off the show with a popular hit from the Dixie Chicks, "Long Time Gone". The band, led by Jim and Vickie Jones, continued to play for more than two hours, pouring out a medley of tunes including, "Peaceful Easy Feeling" from The Eagles.
Reckless Abandon has always been a crowd favorite and they certainly put on another great performance this year. "Their music appeals to all ages and all kinds – and they are extremely talented," said Carla Kenny, Events Planner for the CPN Master Association.
Don't miss the Master Association's Summer Movie in the Park set for Saturday, August 9, at Coyote Ridge Park. Enjoy the G-rated film, "Mr. Magorium's Wonder Emporium" featuring Dustin Hoffman and Natalie Portman. The show will begin at dusk – about 8:30 p.m., with air castles and concessions beginning at 6:00 p.m. Pack sleeping bags and flashlights and enjoy this annual Castle Pines North (CPN) tradition sponsored by the CPN Master Association and Dr. Andrew Dunbar of Castle Pines Orthodontics.