Meet Castle Pines North's resident golf pro, Dennis Murray
June 1, 2009
/
/
Comments Off

on Meet Castle Pines North's resident golf pro, Dennis Murray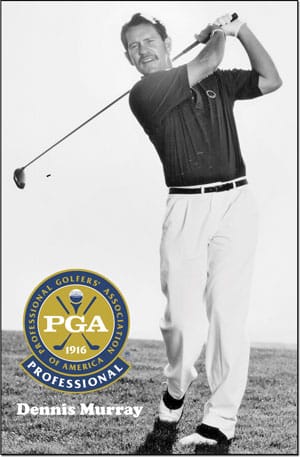 by Scott Lasher
The old adage "Do something you love and you will never have to work a day in your life" is more like a motto for Castle Pines North resident Dennis Murray. For the past 10 years, Murray has served as the Director of Golf Instruction at The Ridge at Castle Pines North.
Since the age of 13 when Murray first picked up a golf club, he knew golf was his sport.
"It was really the only sport you could play by yourself and practice by yourself," Murray said. "We loved to play baseball, but I would have to call a bunch of guys to get a game together. Golf is fascinating because you can be the hero when you do well or the zero when you don't. It's all up to you."
Murray's instant passion for the game eventually landed him a golf scholarship to Florida State University. He turned pro a short time later in 1975 and knew he belonged with the best when he won a Pro Am, finishing ahead of some other well-known pros. Murray got his PGA card in 1980 and he went on to compete at the PGA Tour level and was ranked as the #1 Senior Player in Colorado among other honors during his golf career.
Since then, Dennis has swung through several golf courses and positions within the golf industry, but eventually settled in at The Ridge. Murray also serves as the Director of Instruction at Legacy Golf Club in Bradenton, Florida during Colorado winters. In his teaching career, Murray has taught celebrities such as Michael Jordon, Don Baylor and Joe Sakic.
One of Murray's current students, Gary Hallberg, is also a Castle Pines North resident and he finished last season in the Top 50 on the PGA Champions Tour Money List last year.
Murray will host the PGA Play Golf America Program at The Ridge this summer, promoting golf on Free Lesson Days scheduled for Saturday June 6, 13, 20, and 27. Log on to www.playtheridge.com and click on Golf Instruction link for more details.