May 1, 2012
/
/
Comments Off

on Mission successful!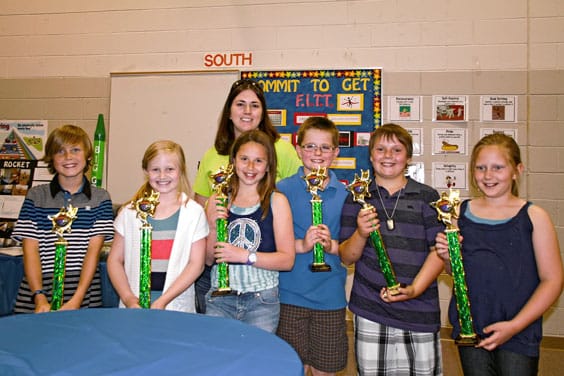 Shown here are the individual fourth and fifth grade winners along side Science Fair Coordinator, Kristi Feret.

Article and photo by Elean Gersack
Congratulations to all of the participants of the first-ever Buffalo Ridge Elementary School Science Fair, Mission Green. The fair, held on Thursday, April 26, focused on environmentally conscious experiments and materials and included projects like cleaning oil spills, air and wind power, and decomposition. Fourth and fifth graders, and a few younger students, participated individually. Kindergarten through third grades created classroom projects.
Judges for the fair were Andy Abner, Rock Canyon High School Principal; Cameron Randolph, Rocky Heights Middle School seventh grade science teacher; and Pat McGraw, Douglas County School District Development & Innovation Officer.
Students were graded on a variety of topics including but not limited to oral presentation, inquiry question, hypothesis, research, data, experiment, observation, and presentation.
And the winners were …

Fifth grade: Laura (1st place/My Science Project is a Bunch of Garbage); Caroline (2nd place /Earth Friendly Paper); and Pacey (3rd place/Are Expensive Paper Towels Worth the Price?).

Fourth grade: Courtney (1st place/Water Content of Snow); Sean (2nd place/ Solar Energy); and Ryan (3rd place/Solar Panels … Does the Angle Matter?).
Top Class: Mrs. Coombs. Top kindergarten through third grade individuals: Libby (third grade), Jenna (third grade), Cai (second grade) and Lia (first grade).