Multifamily development still a potential for City of Castle Pines
October 1, 2015
/
/
Comments Off

on Multifamily development still a potential for City of Castle Pines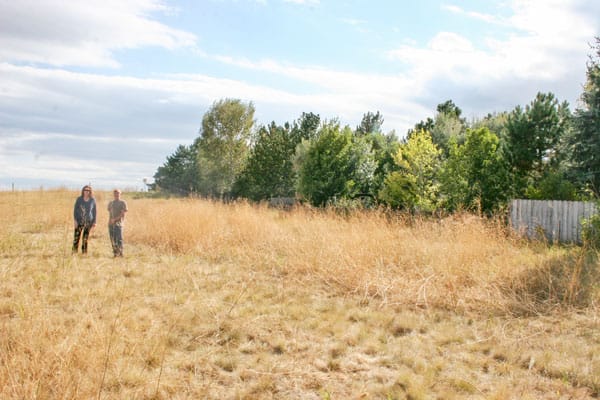 HOA1 residents Lorrie Ball (above left) and Harley Rinerson (above right) would be facing a three story structure just 60 feet from their property lines if the proposed complex project moves forward.
Castle Pines City Planner Sam Bishop (left) and Price Development Group (PDG) representative Chris Bennish held several meetings last month to address concerns about PDG's preliminary proposal for a 200 unit apartment and townhome complex at the southwest corner of Castle Pines Parkway and Lagae Road.
Article and photos by Kathy Fallert
Future development of the vacant lot on the southwest corner of Lagae Road and Castle Pines Parkway has been a topic of discussion for many years. A new plan for the property has neighbors and city officials exploring the options.
Price Development Group (PDG) is the latest organization considering the construction of a 200 unit luxury apartment and townhome complex on the 10-acre site. The project has not yet been officially proposed, but is expected to be introduced at the end of October or beginning of November.
The property is currently zoned "business" and does allow for multifamily residential use through Use by Special Review. This review process allows for an additional level of evaluation by the planning commission and city council through the holding of public hearings.
The planned apartments would be situated directly across from the Castle Pines business district, which would mean the renters would likely offer much needed support for local businesses and would potentially generate sales tax revenue, according to city officials.
PDG's preliminary plans indicate units would range in size from 671 square feet to 1,647 square feet for one-, two- and three-bedroom options. Rent prices could range from $1,075 to $2,900 per month.
Among the concerns stated at one of the four neighborhood meetings in September, Castle Pines City Planner Sam Bishop and local residents discussed traffic, pedestrian issues, and the overall height of the structures, which would be prominent for the city.
The intersection of Castle Pines Parkway and Lagae Road has undergone many traffic improvements in the past few years, with more to come in 2016. Currently, the main entrance to the apartment complex is slated to be across from the King Soopers Shopping Center entrance. The only other entrance would be a right hand turn lane off of eastbound Castle Pines Parkway. The preliminary design allows for a pedestrian trail to tie into the existing Elk Ridge Park trail but does not address any increased pedestrian traffic crossing Lagae Road to the east toward the business district.
In addition, the height of the proposed structures – which Price Development Group representative Chris Bennish acknowledged at the meeting – would rise up three and potentially four stories in some places, equating to roughly 44 feet in height. By comparison, the city's tallest structure – the medical and dental building across the street next to Walgreens – stands 43 feet high to the ridge of the roof galley.
The preliminary development plan does include increased large caliber landscaping and berms to help buffer the buildings from Castle Pines Parkway to the north and HOA1 residences to the west, but no major changes to the existing topography are anticipated.
HOA1 resident Lorrie Ball commented, "This lot is the highest point in all of Castle Pines and will be right behind my home just 60 feet from our property line! Our concern is that Price Development Group is considering building high density, three and four story tall rental apartments that would increase our current traffic situation and will not project a positive image in our community."
Ball continued, "Additionally, with only 1.8 spaces of parking for each apartment there is also concern that the overflow would park in the King Soopers lot, creating more pedestrian issues as well."
According to Mayor Jeff Huff, "New residents who support our local businesses make Castle Pines more attractive by allowing us to make additional investments in roads, recreational facilities and other amenities that residents demand." Huff continued, "Luxury apartments provide a needed housing option for our residents as they downsize from large single family homes. We want to provide an opportunity for newly single and retired residents to stay in Castle Pines if they want to."
If all goes as the developer proposes, first units would be completed September 2017 and construction would be complete in January 2018. For more information about Price Development Group, visit www.pricedg.com.