One of Castle Pines' own scores big with football scholarship
May 1, 2011
/
/
Comments Off

on One of Castle Pines' own scores big with football scholarship


Article by Nate King, Senior Sports Editor, Lutheran High School Parker
High school senior Dalton Horan is a gifted young man and he is ready to take his talents to the next level. Horan, an 18-year old resident of Castle Pines, is set to graduate from Parker's Lutheran High School in May and he will begin his college career at Mesa State College in Grand Junction this fall.
Horan has signed to play football at Mesa and he plans to major in finance. An involved high school student, Horan has competed in football, basketball, and track and field at Lutheran High and achieved many feats for the Lions, both for the team and as an individual. Horan has qualified for the Colorado state track meet multiple times and has helped the football and basketball teams to the state playoffs.
Horan has garnered much recognition around the state for his athletic accomplishments, receiving multiple All-Conference nods in his many sports and scholarship offers in each.
In 2010, Horan contributed to the Lutheran football team's best finish in school history with a record of 6-4 and a spot in the state playoffs for the first time ever. Horan enjoyed a big season on the football field, with 26 solo tackles to his name, and he led the Lions in yards per catch at 23.6. He had a big game against rival Denver Lutheran, including a blocked punt and fumble recovery for a touchdown.
As a basketball player, Horan is known for his similarities to the Nuggets' Chris "the Birdman" Andersen. In addition to a huge wingspan courtesy of his 6'4" frame, Horan is known to sport a crazy hair-do every once in a while.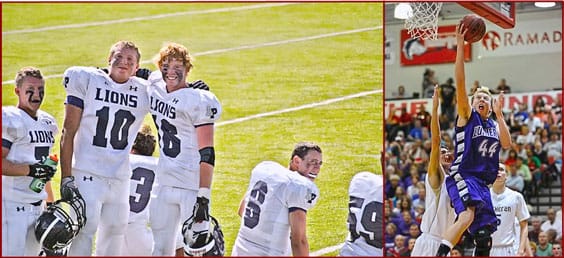 Horan was a key member of the Lions basketball team that reached the state championship and finished as the state runner – up. Horan averaged 5.5 points per game during his senior basketball career and finished second on the team in blocks with 25 swats.
Horan's energetic and fun-loving personality shows through in every facet of his life, especially his athletic ventures. Horan is always the first one to crack a joke and give a big smile and students at Lutheran High love being able to call him a fellow Lion.