Operation Bright Star donates Thanksgiving meals with community support
November 1, 2014
/
/
Comments Off

on Operation Bright Star donates Thanksgiving meals with community support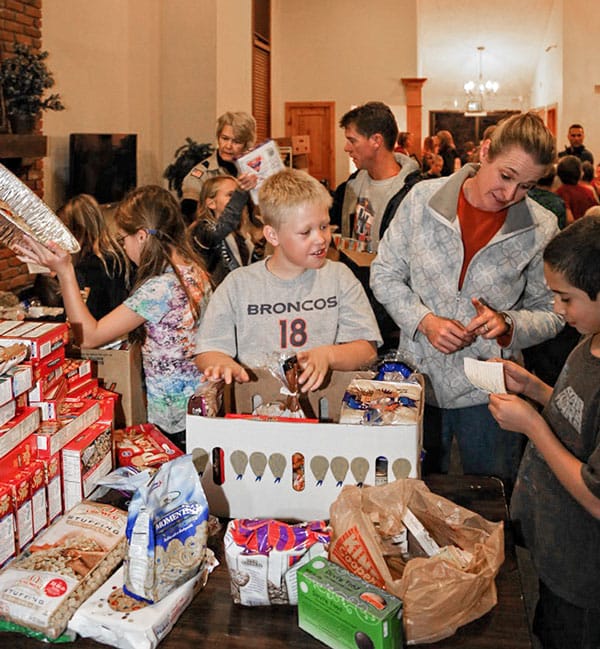 A Castle Pines tradition since 2009, Operation Bright Star, organized by the Robinson family, brings residents of all ages together to assemble Thanksgiving meals for the Crisis Center.
By Lisa Nicklanovich; photo courtesy of Steve Robinson
Steve and Jody Robinson are continuing a Castle Pines community tradition by gearing up to provide Thanksgiving meals to the Crisis Center (formerly named The Women's Crisis and Family Outreach Center) in Castle Rock. Operation Bright Star (OBS) is looking for residents who would like to donate either food, cash, or gift cards, or to participate in the assembly process. Local businesses are also invited to donate to the cause.
OBS began as a neighborhood family project in 2009 as a way to get the Robinson's three kids involved in community service. From providing 16 meals their first year to 50 meals last year, OBS has grown to include friends, neighbors, and boy and girl scouts. A handmade Thanksgiving card is also included in every box.
Purchase a turkey at King Soopers (Lagae location only), mention OBS, and the store will hold the turkey for OBS to pick up on assembly day. Donate dry good items such as canned fruit and vegetables, boxes of crackers and cookies, packets or bottles of gravy, small bags of potatoes, packs of dinner rolls, or grocery gift cards in $10 increments for perishable items. Or, help out on assembly day Sunday, November 23 at the Castle Pines Community Center on Yorkshire Drive. Donations will be accepted from noon to 1:00 p.m., or can be arranged earlier, and assembly begins at 1:30 p.m.
The Robinsons said the Crisis Center is also in need of toiletries and gift cards (movies, hair cuts, etc.) For more information, e-mail the Robinsons.