Operation Bright Star shines in the Castle Pines community
November 1, 2011
/
/
Comments Off

on Operation Bright Star shines in the Castle Pines community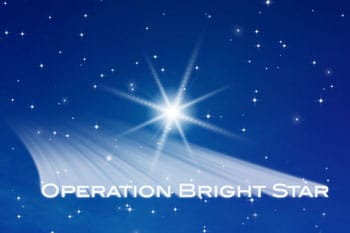 by Tricia Wackerly
Operation Bright Star is once again gearing up to provide Thanksgiving meals for the Women's Crisis and Family Outreach Center and the Douglas County Task Force. This will be its third year.
Operation Bright Star delivered 16 full Thanksgiving meals to the Douglas County Task Force in 2009 and 29 full meals were delivered to The Women's Crisis and Family Outreach Center in 2010. This year's goal is 50 full Thanksgiving meals.
The grass roots efforts, spearheaded by Steve and Jodi Robinson, started out as a neighborhood family project that enabled them to involve their young children in giving back to those in need. It has now expanded to include Girl Scout troops and, hopefully this year, Cup Scouts and as many volunteers as they can gather.
The Robinsons are reaching out to members of the community who would like to donate either food, cash, or gift cards, or to participate in the assembly process. Operation Bright Star is also looking for local businesses that might want to help sponsor or donate to the cause.
This year, Operation Bright Star is determined to reach more families with the help of the Castle Pines community. The following items are needed to provide a complete Thanksgiving meal in a box: Cash donations for purchase of turkey's; $10 grocery gift cards for purchase of perishable items (milk, butter, etc); aluminum turkey roaster pans; food items; cans of cranberry sauce, vegetables, gravy; bags of potatoes; dinner rolls, cookies, crackers, and stuffing.
This year, Robinson is hoping to expand to collecting toiletries and women's items for donation to the Women's Crisis Center, with talk of
possible gift certificates for hair cuts, movies etc.
"Though we will collect items on November 1, we are still in the planning process so we are hoping to have our meal/box assembly party on November 19 or 20 at the HOA1 clubhouse. We anticipate delivery of meals would be November 21 or 22," said Robinson.
For more information on firm dates/times, collection locations, or how you can help, contact Steve Robinson by e-mail or call 303-955-5985. Additional information can also be found at www.opbrightstar.info.