Operation Christmas Child, shoebox style
November 1, 2013
/
/
Comments Off

on Operation Christmas Child, shoebox style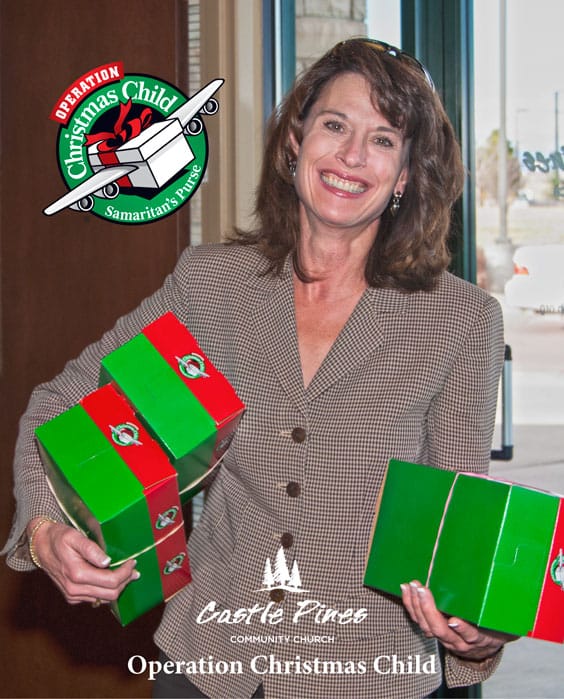 By Elizabeth Wood West
Castle Pines Community Church (CPCC) is inviting the public to participate in Operation Christmas Child (OCC). OCC is an annual international holiday gift drive for needy children and a ministry of Samaritan's Purse – a Christian non-profit international relief organization that began the shoebox gift ministry in 1993. Last year, the Castle Pines community and CPCC families donated and shipped more than 800 shoeboxes to children all over the world.
CPCC will host a packing party on Saturday, November 9 from 2 p.m. to 4 p.m. Sara Moore, volunteer coordinator for the event said, "This is a great way for kids to learn about sharing with others. It's so much fun for families and we want the community to join us." CPCC will serve hot chocolate and cookies as everyone helps fill shoeboxes (assembly-line style) with gifts that have been donated by businesses, church members and others.
If you choose to pack your own shoebox, you can pick up empty shoeboxes and labels at CPCC. You may drop your shoebox and $7 check (to cover shipping costs) in the lobby at CPCC, 7280 Lagae Road, Suite O, in the King Soopers shopping center in Castle Pines during collection week, as follows:
Monday November 18 9:30 a.m. to 2:00 p.m.
Tuesday November 19 9:30 a.m. to 2:00 p.m.
Wednesday November 20 9:30 a.m. to 2:00 p.m.
and 6:00 p.m. to 8:00 p.m.
Thursday November 2 1 – 9:30 a.m. to Noon.
Friday November 22 9:30 a.m. to 1:00 p.m.
Saturday November 23 9:00 a.m. to 3:30 p.m.
Sunday November 24 9:00 a.m. to 9:30 a.m.
Monday November 25 9:30 a.m. to 12:30 p.m.
For more information about Operation Christmas Child and how to pack a shoebox or CPCC's packing party/collection week, visit www.castlepineschurch.org and click on the "Operation Christmas Child" tab.