Local swim school makes a big splash in Colorado
November 1, 2013
/
/
Comments Off

on Local swim school makes a big splash in Colorado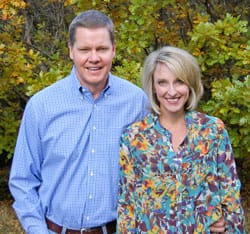 Matt and Lara Lane, along with partners Paul and Tami Gerrard (not pictured) started SafeSplash swim schools in 2006 and now have eight locations throughout Colorado.
Article and photos by Amy Shanahan
In 2004 when Castle Pines Village residents Matt and Lara Lane investigated swim schools for their two daughters, they were unable to find a program that offered exactly what they were looking for. So what did they do? They started their own swim school, thus starting a business that today boasts eight locations in Colorado, and another sixteen nationwide. On October 20, SafeSplash swim schools reached the phenomenal goal of teaching one million lessons!
SafeSplash swim schools are well-known for offering high quality, warm water lessons in a comfortable environment. Their highly experienced instructors teach skills while also promoting self-confidence in the students. The Lanes, along with their business partners, Castle Pines residents Paul and Tami Gerrard, have made these basic principles their number one priority throughout the expansion of their business.
"We founded this business because we wanted our own kids to love the water and build self-confidence via swimming," remarked CEO Matt Lane. "As we've grown, the support we've received from the communities we serve has been overwhelming."
The first SafeSplash swim school opened in 2006 in Lone Tree, and the business is currently growing at a rate of one new school each month. The business partners plan to have a presence in all fifty states within the next five years. The Lanes and Gerrards are very thankful for the support they've received from their students, parents and employees.
"One million swim lessons is a tremendous milestone for us," stated Matt. "We strive every day to show the families we serve that we deserve their support and trust. After all, they entrust their most precious possessions to us on a weekly basis…their kids. We take that very seriously."
To learn more, visit www.safesplash.com.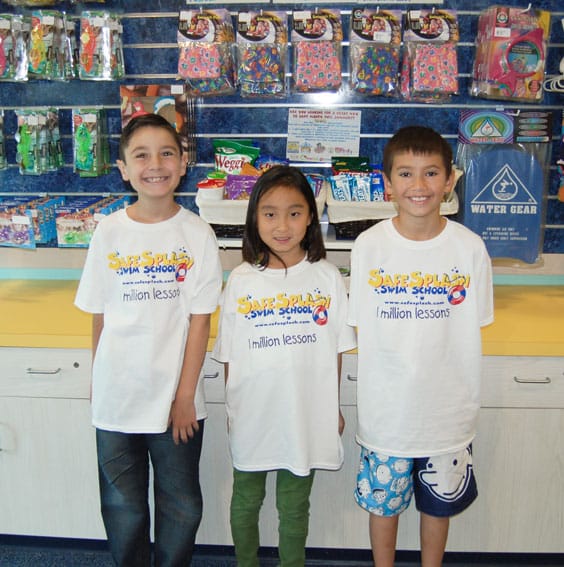 Pictured from left to right are Austin, Hana and
Ryan, who were the lucky participants in the one-millionth swim lesson
at SafeSplash swim school! The kids were surprised with t-shirts and
gift baskets when they arrived for their swim lesson with Miss Connie,
who Hana described as "really nice and fun!" Austin loves his lessons at
SafeSplash and remarked, "I like getting better at swimming!" Ryan
agreed and continued "Our favorite part of swim lessons is diving for
the ring." Austin's mom Crystal is a big fan of SafeSplash. "They are so
patient with the kids and really work with them on both their strengths
and weaknesses."