Plans Moving Forward on CC-20. Library District Signs Letter of Intent with Developer
December 1, 2006
/
/
Comments Off

on Plans Moving Forward on CC-20. Library District Signs Letter of Intent with Developer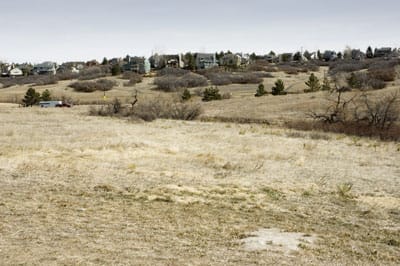 by Lane Roberts
Public hearing notices were placed on the CC-20 parcel on November 14. Plans for the parcel, located on the northwest corner of Castle Pines Parkway and Monarch Boulevard, are moving forward and new changes have been introduced.
As of press time, a public hearing was scheduled for November 27 with the Douglas County Planning Commission. In addition, a second public hearing is set for December 13, at 9 a.m. with the Board of County Commissioners. The meeting will be held at 100 Third Street in Castle Rock. Residents of Castle Pines North (CPN) are encouraged to attend.
In early November, the owner of CC-20, Village Homes, met with representatives from the CPN Master Association, the Metro District, and the CC-20 Committee to discuss changes to the plan.
Village Homes still plans to include 20 town homes and 27 patio homes on the parcel. Construction for these homes is expected to begin in March or April, 2007, pending County approval and re-zoning of a portion of the property. The remaining portion of the property will include commerical development. As of press time, Village Homes had letters of intent from a nail salon and a dry cleaner.
In addition, Village Homes has also announced that Jamie LaRue, Executive Director of the Douglas County Libraries, has signed a letter of intent to lease a proposed 6,500 square foot building on the site for a future library.
The letter of intent was not a "contract" or a legally-binding document, but LaRue said it was, "an indication of our seriousness and our intention to get something done there."
LaRue also said Village Homes made improvements to the proposed library site from its original design, and expanded the location. "They've been very accommodating with us," he said.
The library district is currently searching for funding options for the proposed library in CPN, including private donations. LaRue says he hopes to ask voters in 2007 to fund library expansions and new libraries, including the CPN location.
Village Homes has also made other changes to the proposed development including: adding a turn lane to widen Monarch Boulevard at Castle Pines Parkway,
utilizing low-water landscaping, and reducing the number of entrances to the property from three to two. The general "look and feel" of the buildings has also changed to make the commerical area look unique.
For more information about the public hearing, contact Douglas County at 303-660-7460. To learn more about the history of CC-20, visit www.cpnhoa.org and search "news archives."