Rock Canyon High School Kicking Team
October 1, 2019
/
/
Comments Off

on Rock Canyon High School Kicking Team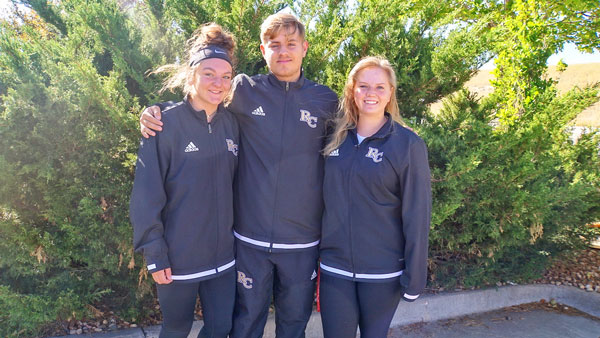 The three kickers of the Rock Canyon High School football program left to right: Josie Manning, Sawyer Zook and Madison Amey.

Article and photo by Carin R. Kirkegaard
The Rock Canyon High School special teams added two new kickers to join varsity senior and The Village at Castle Pines resident Sawyer Zook on the field. Madison Amey and Josie Manning, both Castle Pines residents joined the team last spring, bringing the number of kicking Jaguars from one to three.
Last season, Zook was the only kicker for the Jaguars. He said that having a team to train and work with has made a difference. During practice having someone to take turns shagging balls as well as someone to talk shop with has only been a positive.
In addition, the team also welcomed Special Teams Coordinator Scott Bielat. All three kickers commented on Bielat's favorable coaching contributions. Zook said that Bielat is constantly trying to improve the kicking team, from coaching on the field to giving pieces of advice off the field.
"Having Coach Bielat is a huge part of a culture shift," said Zook. "He'll give me articles he has found on kicking. He's always looking for ways to help me improve," Zook continued.
"I have been very impressed by the work our football team has been putting in. They certainly win the award for most time spent at Rock Canyon over the summer. I believe their hard work shows how much they have physically grown with improved strength. I believe all of our players and coaches are making positive strides to put our team in the best position to win each week. More important than the winning is providing a positive example of what it means to be a leader and upstanding citizens in our community," stated Rock Canyon Principal Andy Abner.
Abner continued, "This year I have enjoyed watching Madison, Josie and Sawyer be part of our football team. I think it is great that these students have stretched themselves to try something different and that their team and community have accepted them. At the end of the day we are all very proud to be Jaguars!"