Rock your dollar begins Tuesday
August 1, 2009
/
/
Comments Off

on Rock your dollar begins Tuesday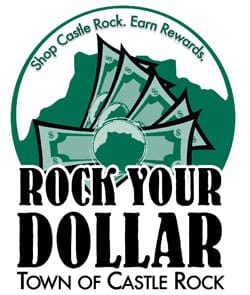 Submitted by Kristin Zagurski
Rock your dollar begins Tuesday – use this guide to get ready
Ready to Rock Your Dollar?
It's about time.
The purchase and receipt redemption period for the program runs Sept. 1-30.
Continue reading for a quick guide to the program.
As always, any questions regarding Rock Your Dollar can be directed to 720-733-3583 or Contact by e-mail.
What constitutes a qualifying purchase?
Most taxable items purchased from any Castle Rock-licensed business within the Town's corporate limits between Sept. 1 and 30 count toward the $500 in total purchases needed to participate in Rock Your Dollar. Some exceptions to that include groceries, gas, alcohol, tobacco and prescriptions. A more comprehensive list of items that do and do not qualify is available on the Rock Your Dollar section at CRgov.com or at either of our redemption sites.
Once I've spent $500, what do I do?
Bring your receipts and a government-issued ID proving you're at least 18 to Castle Rock Town Hall, 100 N. Wilcox St., 7 a.m.-6 p.m. business days or to The Courtyard at Castle Rock, 333 Perry St., 10 a.m.-5 p.m. Saturdays and Labor Day and noon-5 p.m. Sundays. (Both locations will be closed Friday, Sept. 4, which is an unpaid furlough day for Town staff.) We'll verify your $500 in receipts and issue you a $50 Castle Rock Cash Card. Each eligible participant can earn up to two $50 Castle Rock Cash Cards for spending $1,000 in Town. The Town will dispense Cash Cards until Sept. 30 or until a program cap of $100,000 is reached.
Where can I use my Castle Rock Cash Card?
Castle Rock Cash Cards can be used anywhere in Castle Rock's corporate limits where major credit cards are accepted, including on items such as groceries and alcohol and on nontaxable services. The cards cannot be used to pay utility bills. The Town cannot guarantee businesses will honor the cards and will not replace lost or stolen cards. The cards expire Oct. 31.
Rock Your Dollar and reward yourself while exploring all our extraordinary Town has to offer. We've got a wide selection of shops and services and plenty of places to kick back and play.