Rocky Heights Nighthawks to Hold Fall Tryouts
August 1, 2006
/
/
Comments Off

on Rocky Heights Nighthawks to Hold Fall Tryouts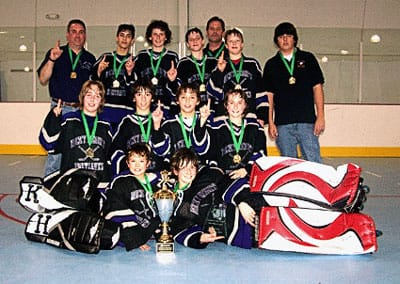 Rocky Heights Nighthawks celebrate their state championship win.

By Carin Kirkegaard
All middle school students in grades six through eight, both boys and girls, interested in playing for the 2006 Colorado Middle School Inline Hockey League are invited to attend the Rocky Heights Nighthawks fall tryouts at the Soc n' Roll indoor sports facility in Monument.
Last year's season was a huge success. Over 300 middle school kids divided into 29 teams and played hockey across the Colorado Front Range. The Rocky Heights Nighthawks ended their season with the Gold team winning the State Championship and the Bronze team taking 4th place.
The inline hockey program provides an opportunity for kids to play in a sport not currently offered by the middle school as well as acts as a feeder program into high school hockey. "Altogether this is a wonderful program – as our kids develop their skills and learn the value of sportsmanship, teamwork, and discipline in a positive and safe atmosphere," said Gilbert Hernandez, President of the Rocky Heights Nighthawks Hockey Club.
The 2006 season begins in mid September and finishes in early December. Practices are held once or twice weekly in the early evening. Games are played on the weekend. There will be ten regular season games, followed by playoffs and a championship game. An All Star game is also played based on nominations.
The cost to register a player is $161. Families should also budget an additional $75 to $100 to cover Amateur Athletic Union membership, practice facilities, jerseys and other miscellaneous costs. Returning players will have the jersey costs deducted from these fees.
Community support is vital to the team's success. Corporate sponsorships are being sought and parent volunteers are always welcome. Coaches, team administrators, statisticians, help with car pools, communications, fund raisers and other general support is always needed.
To learn more about the Rocky Heights Nighthawks visit the website at www.eteamz.com/rhnighthawks.com. To receive information about tryout dates email Gilbert Hernandez at gilbert-hernandez@comcast.net.