Rocky Heights Robotics make some smart moves
February 1, 2010
/
/
Comments Off

on Rocky Heights Robotics make some smart moves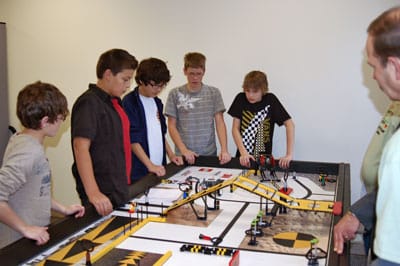 RHMS Robotics Club, team #2.


Article by Kathy Dunker with photos courtesy of Amy Shanahan
Robots are not just part of science fiction anymore. Rocky Heights Middle School (RHMS) offers a Robotics Club to its students for the third consecutive year. Under the leadership of seventh grade Social Studies teacher, Cameron Randolph, the club continues to grow and also offers numerous challenges to interested students.
This fall the club entered two teams into the FIRST (For Inspirations and Recognitions of Science and Technology) Lego League, an international robotics challenge which immerses the students into the exciting world of engineering.
FIRST Lego League events utilize theme-based challenges to engage kids in research, problem solving, and engineering. And, surprisingly, the atmosphere is much like a sporting event. Referees monitor and score the robot game, judges review team presentations, and teams earn awards and trophies. It is an exciting environment with music and a lot of cheering.
The theme for this year's competition was "Smart Moves." The teams used the Lego Mindstorms robotic kit, which they engineered, to perform various tasks around a table with different challenges using motors, sensors, and a programmable brain.
The students earned points for completing a number of the challenges within the 2 minutes and 30 second time limitation. The teams competed in three rounds of competition at the regional qualifying round, held at the University of Colorado at Colorado Springs.
The cornerstones of the Robotics program emphasizes contributions of others, friendly sportsmanship, learning, and community involvement. According to Mr. Randolph, "This was a tremendous group of young people; they were diligent with the tasks and challenges they were presented with, and they worked extremely well together."
The Robotics club is only one of many clubs that are available to the students. RHMS is fortunate to have outstanding teachers who use their talents outside of the classroom to offer a variety of interesting and exciting clubs and classes to their students.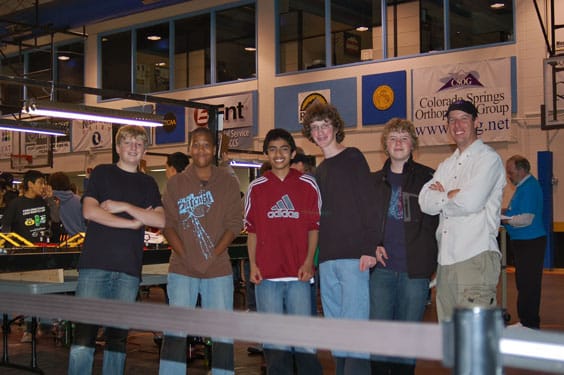 RHMS Robotics Club, team #1, competing at the Lego Mindstorms competition.