The Castle Cappellas are holding auditions!
February 1, 2010
/
/
Comments Off

on The Castle Cappellas are holding auditions!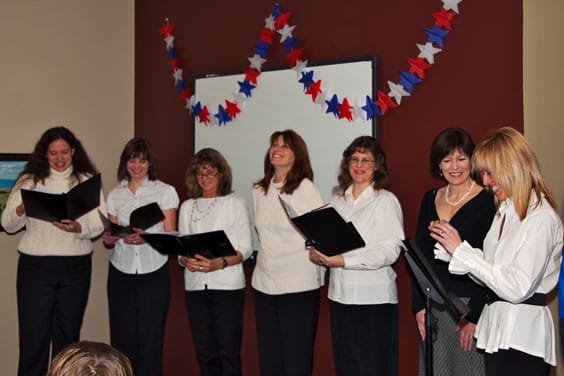 The Castle Cappellas, a volunteer ladies chorus is seeking Soprano I, II and Alto I, II voices. We have sung at a few political events, local churches, The Wildlife Experience Christmas Lights event and at the Denver Tea Party. We also sang at the city of Castle Pines July 4th celebration and the recent mayoral inauguration (pictured above).
We are increasing our presence in the community and hope to be singing at a lot more events. Our music is mostly patriotic and Christian with some Madrigal and contemporary pieces as well as Christmas and holiday.
We are a new group that formed in 2008 with 10 members currently and want to expand. This is an all volunteer group with each of us paying for our music. Rehearsals are Thursday evenings in the Castle Pines/Surrey Ridge area; We have a lot of fun!
If you love to sing and can sight read fairly well, we would love to talk with you and schedule an audition.
Contact Cindy Kessinger-Wenninger 303-909-6268 or e-mail. .