Rotary Club of Castle Pines honors Rotarian of the Year
September 1, 2016
/
/
Comments Off

on Rotary Club of Castle Pines honors Rotarian of the Year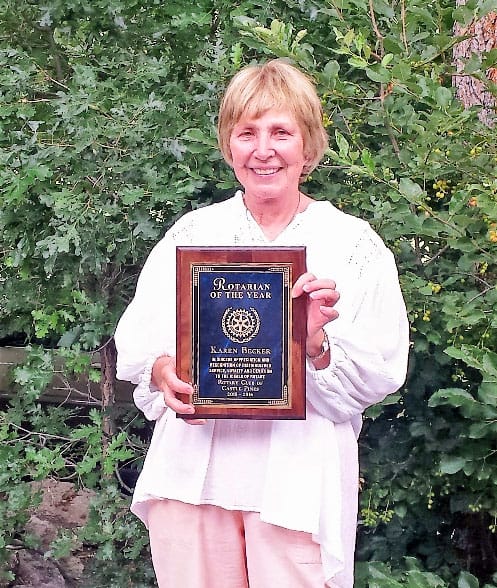 Long standing Rotary Club of Castle Pines (RCCP) member Karen Becker was
honored with the Rotarian of the Year award on July 21.

By Elean Gersack; photo courtesy of Wes Schuneman
Becker was a charter member of the RCCP and humbly prides herself on her service work that started many years ago in the Peace Corps. After a lengthy career in telecommunications, Becker served in Bulgaria for three years doing local government administration and small business development shortly after the Iron Curtain came down. "It was very meaningful work. I could open doors for people to walk through," said Becker.
Upon her return to the states, she and her husband settled in Colorado. With a downturn in the telecomm industry, Becker was at a crossroads and decided to go back to school. She earned her registered nursing degree at the age of 64 and spent the next 10 years caring for others, mostly children. It seems that giving back and nurturing others is who she is at heart.
Becker has focused on two major efforts with RCCP this year. The first is with the Douglas County Sheriff's Office Y.E.S.S. programs – Applied Suicide Intervention Skill Training (ASIST) and safeTALK (suicide awareness for everyone). ASIST helps community members like teachers and school counselors with intervention training and safeTALK focuses on suicide awareness for any community member who is 15 years old or older. The second is the Rotary Youth Leadership Awards (RYLA), promoting leadership skills at a young age. This year, RCCP sponsored week-long leadership training for seven students.
"I've been so fortunate to be around positive people," said Becker. "My greatest reward has been the friendships with other like-minded people who wish to provide assistance to our communities and the world," she added.
In addition to the programs already mentioned, the RCCP is involved with clubs at Rocky Heights Middle School and Rock Canyon High School; providing grants for at-risk middle school students to attend overnight retreats focused on positive relationships and high self-esteem; and providing breakfast to local firefighters on 9/11.
"Karen clearly stands out in demonstrating 'Service Above Self,' and principled commitment to the Four-Way Test," stated RCCP President John Hauber. "She is an outstanding member of the club who tirelessly leads our efforts to serve the youth of Douglas County. We are blessed to have her."
RCCP has two main fundraisers during the year to support their efforts – the annual Ducky Derby and Palisade peach sales. The group meets every Thursday at The Egg & I in Castle Rock at 7 a.m., except on the third Thursday when the group enjoys an evening social. RCCP is always looking for new service-minded individuals to join the membership. Learn more at rotaryclubofcastlepines.org.