SafeSplash Swim School Opens
December 1, 2006
/
/
Comments Off

on SafeSplash Swim School Opens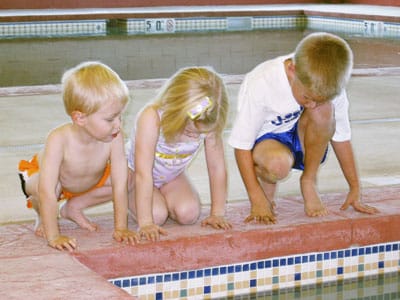 by Elean Gersack
SafeSplash swim school opened for swim lessons on Monday, November 27, at a brand new facility located next to The Wildlife Experience. This dedicated warm water pool is just what kids need to feel comfortable and gain confidence in the water. SafeSplash boasts instructors that are highly experienced and teach at very low ratios – at most, four students in a group lesson. Semi-private and private lessons are also available. There are no pre-set lesson times so parents can choose a time that is most convenient.
The water at SafeSplash is a warm 90 degrees verses the average temperature of a municipal pool – about 81 degrees. Water turnover happens much more frequently also – about every two hours at SafeSplash compared to every six to eight hours elsewhere. The pools are purified by making chlorine from salt instead of chlorine tablets. Students will notice and parents will appreciate not only the warm water, but warm air and clear looking and tasting water, too.
The idea for the swim school came to owner, Matt Lane, when he had a hard time finding swim lessons for his own daughters, then ages two and three. "The water was too cold and the instructors were just not very experienced," said Lane. "After some research I found that other metro areas have multiple facilities such as ours – all mom and pop kind of places." So, Lane decided to take the plunge, and open just such a place that would allow kids to learn and be safe in the water.
At SafeSpalsh, parents will enjoy some great perks, including a full-service coffee shop, smoothies, and healthy snacks. An expansive seating area, complete with viewing windows for the pool, will allow parents to sit back and relax while watching lessons from a climate-controlled area.
SafeSpalsh is located just east of I-25 and Lincoln Avenue, next to the Wildlife Experience, at 12240 Lioness Way in Parker. The hours of operation are 8 a.m. to 8 p.m. Monday through Saturday, and 11 a.m. to 6 p.m. on Sunday. In addition to swim lessons, SafeSplash families can utilize a party room with the use of one or both pools on Friday and Saturday afternoons and participate in open swimming on Friday and Saturday evenings.
For more information about SafeSplash or to register for lessons, visit www.safesplash.com or call 303-537-3280.