Skyline soccer ready to open new indoor facility
November 1, 2016
/
/
Comments Off

on Skyline soccer ready to open new indoor facility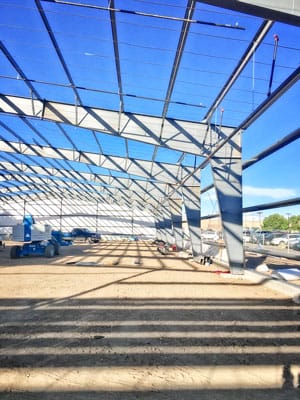 The 23,000 square-foot soccer facility will accommodate three futsal fields (which are smaller turf fields) or one large field and is scheduled to open later this month.


By Kathy Fallert; photo courtesy of Neil Alvarado
Ten-year HOA1 resident Neil Alvarado is reaching a new milestone with Denver-based Skyline Soccer Association (SSA), a nonprofit soccer club that helps underprivileged kids. SSA has been around for 51 years and has long been in need of an indoor facility to use in the winter months. Now they will have that much needed facility at 2175 South Bryant Street in Denver.
Alvarado's family immigrated from El Salvador, and he was an underprivileged child himself in south central Los Angeles 39 years ago. The youngest of 12, Alvarado relates to these youths, especially the Spanish-only speaking immigrants and refugees who get lost in the shuffle or even criminalized. Alvarado, who headed up the international division of SSA three years ago remarked, "I identify with these kids. I see myself in every one of them. For a refugee to come play soccer at an affordable price and take it to as high of a level as possible is not only great to watch, but it also helps the child assimilate; soccer is the bridge to American culture for them."
With an inner need to give back to recent immigrants, Alvarado continued, "There are some amazingly talented children in the inner cities who are overlooked. Right now on my son's team there are seven immigrants and four refugees who have incredible talent. I can't turn my back on the less fortunate. I want to give these kids the same opportunities I was given."
With SSA's first indoor field close to completion, the young athletes aged two-and-a-half to 18 years will be able to play winter soccer in an environment protected from the elements. Alvarado's vision is to build a duplicate facility as soon as possible to help even more kids.
SSA is hosting its annual fundraising gala to support underprivileged youth at the Space Center in Denver on Friday, November 18 from 7-11 p.m. For more information or to purchase tickets, visit www.skylinesoccer.org or contact Alvarado directly at 720-933-4686 or by email at neil@skylinesoccer.org.