Spend $20 on August 20th!
August 1, 2010
/
/
Comments Off

on Spend $20 on August 20th!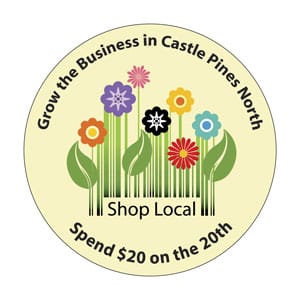 This information provided by the Castle Pines Chamber of Commerce.
The much-anticipated Castle Pines community event – $20 on the 20th has arrived! Here is how it works… Residents are encouraged to spend $20 they had not planned to spend on local goods or services in Castle Pines North. It's that simple. When you begin doing the math, it becomes evident that even if just 15 percent of our residents participate, it can infuse thousands of dollars into the local economy. Below is a list of local merchants particpating in the event, although others may also join after press time. Please check with your favorite local business and see if it is taking part in the event. Participating merchants will also display posters featuring the logo (pictured above) in storefront windows.
Little Italy – Two 12" pizzas for $20! Choose from our specialty pizzas or make up your own – up to 4 toppings per pizza.
The Flower Shop – Mixed seasonal flowers, fresh-cuts in a wrap – only $20!
The Spa at 188 – $20 for a Pick Me Up Express Facial: Includes an ultra sonic deep cleanse, enzyme treatment with steam, and moisturizing application; $20 Waxing Service; Choose between any two services: lip, chin, or brows; $20 One Airbrush tanning session
The Bundt Shop – An 8" Bundt cake (serves 10) of any flavor for $20! Limit 2 per household. Pre-orders and walk-ins both welcome.
CaBu Pilates – A one hour private lesson for $20, a $40 value!
Green Earth Cleaners – Any comforter cleaned – any size, any fill, just a $20 bill!
DazBog Coffee – One pound of coffee and a tea tin for $20!
Red Umbrella Deli and Catering – Call the deli to check on our $20 on the 20th specials! 303-663-5696
King Soopers – Fresh flower bouquet only $20!
Castle Pines Wine & Spirits – Assorted wine specials – $20.00!
Walgreens – Olay Microdermabrasion & peel system for $20 – save $3.99; Walgreens A-Z Select 400 tabs (Walgreen Brand Centrum Silver) for $20 – save $4.99; Sandisk 4GB SDHC Card for $20 – save $4.99
Safeway – Ranchers Reserve Rib Steaks at $3.99/lb regularly $9.99 per pound! ; Dairy Glen Gallon Milk $1.49 (limit 1)
Castle Pines Library – 20 dimes ($2) for a grab bag of books; A handful of Hershey Hugs & Kisses for checking out 20 items.
Castle Pines Chamber of Commerce – Will waive $20 application fee for new members who join on August 20th.
The Castle Pines Connection – Offering a 20% discount on open ad rates for the September issue to any new advertiser who mentions this promotion.