Taking care of citizens like family
April 1, 2023
/
/
Comments Off

on Taking care of citizens like family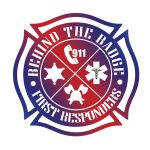 Fire Chief Bob Baker grew up watching his father serve as a firefighter in Flint, Michigan, and the example never left him. He has devoted his life to public service – in fire rescue – just like his dad.
Baker began his career in 1984, moving through the ranks and working in many capacities with Parker Fire Protection District (PFPD). Then, in 2000, PFPD merged with South Metro Fire Rescue (SMFR). Baker continued his service, becoming the SMFR fire chief in 2014.
"It's really a privilege to work for the community," Baker said. "I look forward to showing up for work. People at work are like family to me."
The fire chief position includes a broad range of responsibilities, including the public face of the department. As one of the 50 largest units in the country (almost 800 employees), SMFR covers 12 communities across three counties, which gives Baker many opportunities to interact with political and civic leaders, citizens and other agencies. He is the only paid employee on the SMFR board of directors.
Some of Baker's other responsibilities include interfacing with the local union, teaching leadership classes within SMFR and meeting with individual recruits from the fire academy to discuss expectations of the department. Baker is part of the executive team and leads their meetings. He gives and attends presentations for local clubs, like the Elks or Rotary, and participates in four line-of-duty death remembrances across the country each year. He also stays connected with the families of the 10 fallen firefighters from SMFR.
One of Baker's favorite aspects of the chief position includes building and maintaining a strong culture within the department. He often repeats a mantra to employees: "Our job is to take care of citizens like they are your family members."
Decades ago, Baker moved to Colorado for love. "My wife liked to snow ski and I liked my wife. Her best friend lived in Colorado and the prospects in Flint were not great," he joked. He added that she was going to go west before he proposed, and he could not let her go without him. They arrived with no job or family and made a home in Parker in 1982, one week after getting married. "The good Lord was watching out for us," Baker reflected.
As a young man, Baker was accepted and sponsored to attend the Air Force Academy. But he quickly changed his mind after he realized his 6'6" frame was too tall to fly fighter jets. "I didn't want to go to the Academy after finding that out," he said. His educational path was not typical, but over several years, he has earned a handful of college degrees and certifications, including a masters in Executive Leadership.
Baker passed on the dedication to public service to his three children. "Everyone in the family is in some sort of public service profession," he said. Baker's wife is a retired nurse, and his children and their spouses are nurses, firefighters, a U.S. Marshall or in human resources for local governments. His son Robert, a captain at SMFR, is a third-generation firefighter.
Faith and family are Baker's biggest passions in life. He and his wife have been married for 40 years and now live close to their six grandchildren. In his free time, Baker keeps his body and mind active. He enjoys physical sports and activities such as water and snow skiing, basketball and baseball. He also likes to spend time in his woodworking shop and library, filled with 500+ books on all topics.
Baker recently signed a three-year contract extension, with a retirement date set for April 2026. He concluded by sharing some advice his father often repeated: "You're never going to get rich working in fire service, but you'll sleep well at night knowing that you're making a positive impact on the community and in the lives of citizens."
By Celeste McNeil; photos courtesy of Bob Baker