The big dig! Medical and Dental Center of Castle Pines breaks ground
September 1, 2012
/
/
Comments Off

on The big dig! Medical and Dental Center of Castle Pines breaks ground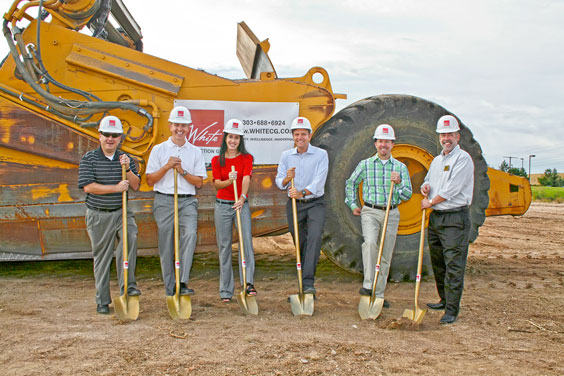 Pictured left to right: Dr. Jason Ortman (Castle Pines Eye Care); Drs. Jeff and Stephanie Scheich (Castle Pines Family Dentistry); Dr. Matthew Rolfson (Castle Pines Dental Care); Dr. Andrew Dunbar (Castle Pines Orthodontics); and Jeffrey Huff, mayor of Castle Pines.
Article and photo by Elean Gersack
On Friday, August 24, the proud owners of the new Medical and Dental Center of Castle Pines (MedDentCP), alongside the mayor, have the honor of breaking ground on their new facility.
MedDentCP is located at corner of Castle Pines Parkway and Max Drive just to the east of Walgreens and is slated to open early summer 2013.
To follow the progress of the building or to learn more, visit www.MedDentCP.com.