TTE choir brings cheer to memory care facility
January 1, 2014
/
/
Comments Off

on TTE choir brings cheer to memory care facility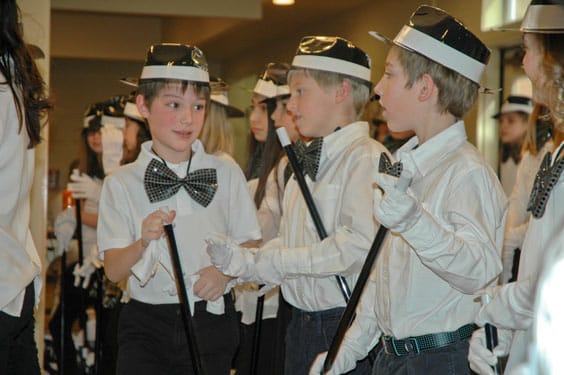 Members of the Timber Trail Elementary choir performed last
month at Azura Memory Care in Castle Rock.
Article and photo by Lisa Crockett
Timber Trail Elementary students helped jazz up the holidays last month – literally – for a group of residents at Azura Memory Care in Castle Rock. Members of the school's choir put on a show for residents living in the facility, which is home to people living with Alzheimer's disease and dementia. The show featured a variety of styles ranging from jazz to rap.
"It was fun to perform in front of people we didn't know," said 10-year-old Carter Spielmann. "I was really excited and it made me happy to bring our show to these people; to share it with them."
The show not only provided a venue for students to perform, but also gave residents at the facility a much-needed change of pace.
"It is great to have inter-generational interaction like this," said Malena Farrell, Azura's quality of life coordinator. "Something like this will sometimes change the whole day for someone who lives here. I measure my success in smiles, and something like this can bring a whole lot of smiles."
The Timber Trail choir is directed by music teacher Cindy Berndt. "We were so glad to be invited to perform here and share the gift of our voices," said Berndt. "I told the kids to remember what an honor it was to perform in someone's home and they did a great job. I was really proud of them."