Three talented Rock Canyon seniors hit all the right notes!
January 1, 2014
/
/
Comments Off

on Three talented Rock Canyon seniors hit all the right notes!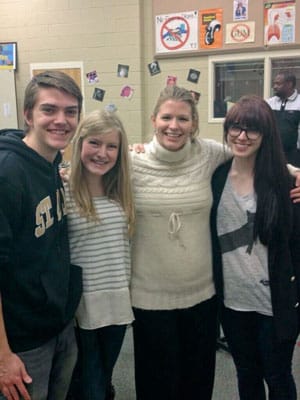 (Left to right) Logan Schafer, Rachel Zetwick, Director of Vocal Music Julia Dale,
and Emilia Bartelheim.
By Amy Shanahan; photo courtesy of Katy Zetwick
Rock Canyon High School (RCHS) was proud to be the only school in Douglas County to have students selected to the All State Jazz Choir. Three of its students were chosen to participate in this prestigious choir, which brings the top voices together from all over Colorado.
In October, hundreds of students from all over the state submitted audition recordings consisting of three different scales and two audition songs. Callbacks occurred in November and the group of only 32 students was announced shortly thereafter. Only eight boys were selected for this choir, and senior Logan Schafer was one of only four basses chosen. Seniors Rachel Zetwick and Emilia Bartelheim represent two of the twelve best sopranos in the state.
Zetwick, Bartelheim and Schafer began practicing immediately, and their entire experience will culminate in a weekend workshop with world-class jazz choral conductors and a fabulous one-time performance at the Broadmoor Hotel in Colorado Springs on January 25.
"These students worked very hard for this and I'm so thrilled their work paid off for them!" remarked Director of Vocal Music Julia Dale. "They will now have a great opportunity to learn from some of the best Jazz Choir musicians in the country and will make memories that will last a lifetime. I couldn't be happier for them!"
The three students have participated in choir throughout their four years at RCHS and have become good friends. They have grown and supported each other over the years, and were thrilled to be named to this highly selective and distinguished choir. "I felt so incredible when I found out I made it!" remarked Zetwick. "I felt disbelief at first, but then I realized that all of my hard work had paid off."