Valor Vespers ring in the holidays
January 1, 2014
/
/
Comments Off

on Valor Vespers ring in the holidays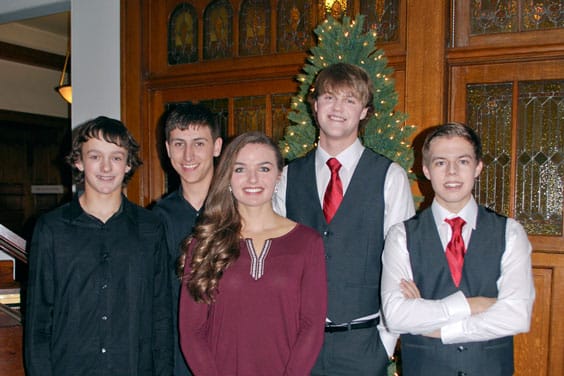 Pictured right: Castle Pines Valor Vespers performers – left to right: Max Shean (trumpet), Jack Hefner (trombone), Hadleigh Seely (soloist), Tyler Traeger (voice/soloist/guitar), and Bishop Magehee (voice/soloist).
Article and photo by Julie Montoya
It was a December night of holiday song and dance, as students from Valor Christian High School performed a free music event in downtown Denver's Historic Central Presbyterian Church. Valor Vespers Sacred Night combined breathtaking classical Christmas traditions with stunning contemporary artistry. Students played instruments, sang, and danced to holiday classics. Contemporary dancers took the stage as music filled the great narthex from Central Presbyterian's grand pipe organ.
Many of Castle Pines' own participated in this free public event that spanned three nights and touched the lives of many, with attendees dancing in the pews and singing along with the talented students.