Town Center at The Meadows project breaks ground in Castle Rock
January 1, 2014
/
/
Comments Off

on Town Center at The Meadows project breaks ground in Castle Rock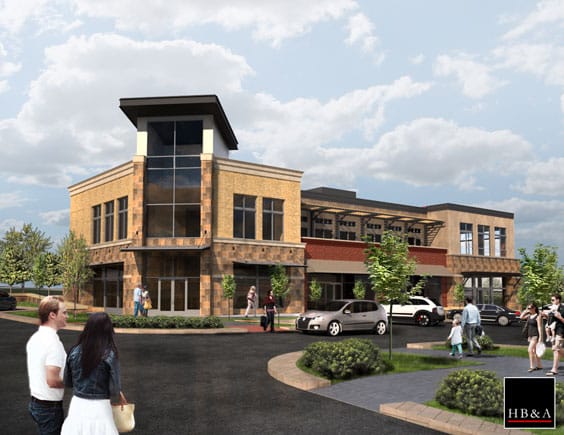 By Elizabeth Wood West
Local business partners and developers Tim White and Doug Decker broke ground last month on their latest commercial project, the Town Center at the Meadows (Town Center) in Castle Rock.
The Town Center will be comprised of two commercial buildings connected by a second floor walkway, totaling more than 30,000 square feet of retail, commercial, and restaurant space. The Town Center is located at the northwest corner of Meadows Boulevard and Prairie Hawk Drive, approximately two miles west of I-25 and Founders/Meadows Parkway.
The I-25 and Founders/Meadows Parkway area has experienced a steady increase in commercial development growth for the last five years. The Town Center will be joining several other new commercial development projects – either in the planning stages or under construction – near The Outlets at Castle Rock, Castle Rock Adventist Hospital, and AMC movie theater complex. White and Decker are both relieved and excited about the economic climate in which they are launching their project. White said, "We were delayed when the economy soured in 2008 and we are poised for success now that it's turned around. The Town Center has been long-awaited by everyone in and around Castle Rock, but it was that much more anticipated by those of us who personally invested in the project to grow the very community where we've worked and lived all of our lives."
White and Decker have partnered on other development projects in the past, including the Fort Carson Child Development Center, Castle Rock Middle School, Copper Mountain Fire Station, and Commerce City Library.
The Town Center will be built in two phases; the first building is scheduled to be completed by August 1, followed by the completion of the second building in late 2014 or early 2015.
For further information, contact Sydney Joung Communications at 202-321-0575.