Voters to Elect First Officials for New City February 12
January 1, 2008
/
/
Comments Off

on Voters to Elect First Officials for New City February 12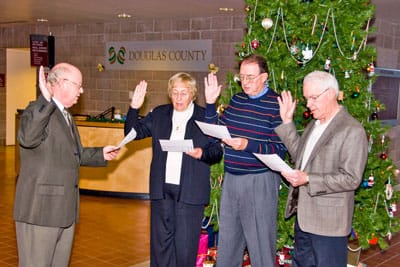 Douglas County Clerk and Recorder Jack Arrowsmith (left) swears in Dick Lichtenheld (second from right) as Interim
Municipal City Clerk for Castle Pines North in December.
Arrowsmith also swore in Interim Municipal Deputy Clerks Eva Mitchell and Galen Crowder (right). As part of the CPN Election Commission, these three CPN residents volunteered countless hours to coordinate the candidate petitions and oversee the February 12 election. Angie Crowder (not pictured) also donated her time to assist with this important election. Special thanks to this group for their contributions to the new City of Castle Pines North. (photo by Tim Gamble)


by Lane Roberts
The ballots have officially been mailed. On January 25, Douglas County Clerk and Recorder, Jack Arrowsmith mailed ballots to 4,883 active registered voters in the new City of Castle Pines North (CPN).
On February 12, residents of the new city of CPN will elect the first nine city officials which will include a mayor, clerk, treasurer and city council.
Six city council members will be selected – two from each of the three newly designated CPN wards.
Under Colorado statutes, the CPN Election Commission was required to divide CPN into wards following certain boundary guidelines and requirements. According to Election Commission Chairman and Interim Municipal City Clerk Dick Lichtenheld, wards were created with the goal of keeping neighborhoods HOAs intact and dividing the population of CPN equally. Lichtenheld said the Election Commission also voted to have two city council representatives from each ward, instead of only one.
For the election of council members, residents will ONLY vote for council persons running from their specific wards. Every active registered voter in CPN will vote to elect "at large" candidates which include the mayor, treasurer and clerk.
Candidates were required to complete and submit a petition to run for office by the January 11 deadline. Each petition was required to include at least 25 signatures of registered CPN voters. Lichtenheld, along with Interim Deputy Clerks Eva Mitchell and Galen Crowder, verified the names on each petition.

No Polling Places –
According to Lichtenheld, there are NO polling places for the February 12 election. Ballots may be returned via U.S. mail or dropped off at either of the following locations:
Castle Rock Bank – 506 Castle Pines Parkway, Castle Pines North, CO
Beginning Monday, January 28 until Monday, February 11, weekdays from 8:30 a.m. to 5 p.m. Ballots may also be dropped off at Castle Rock Bank on Tuesday, February 12 from 7 a.m. to 7 p.m.
Wilcox Administration Building, 301 N. Wilcox Street, Castle Rock, CO
Jan. 28 to Feb. 11 – 8 a.m. to 5 p.m.
Feb. 12 – 7 a.m. to 7 p.m.
Unfortunately, as of press time, CPN had 1,439 inactive voters who will NOT receive a mail ballot for this important election. To change voting status in order to receive a ballot, please contact the Douglas County Clerk and Recorder at 303-660-7469. To check voting status, go to www.douglasvotes.com.
"This election is so critical as it will determine the first leaders for our new city," said Lichtenheld. "It is a unique opportunity that we have to exercise our duty to vote."
For more information about this important election, please e-mail Interim Clerk Dick Lichtenteld at Contact by email.