What's your APPtitude? Hit the road this summer with RV Trip Wizard
July 1, 2018
/
/
Comments Off

on What's your APPtitude? Hit the road this summer with RV Trip Wizard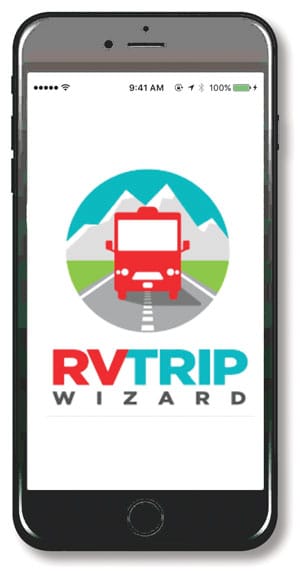 By Amanda Merriman
My oldest child will be heading off to college in two short years. My husband and I have come up with a way to deal with this reality. Forced family time! In all seriousness, we thought about taking a fun trip together to try and squeeze in more memories. Thus, the idea for an RV trip was born.
There are many things to consider when planning a vacation like this, so I immediately looked to technology for assistance. RV Trip Wizard came up consistently in my research. It is not an app to download on my phone. Instead, RV Trip Wizard is a web-based planning tool. It is very intuitive and easy to use. Since it is web-based, it will work on whatever device you use to access the internet. You do need to purchase a subscription, which costs $39 per year. I love how the subscription does not automatically renew, and that there is a 30-day money back guarantee.
Our road trip will take us to Yellowstone and Badlands National Park. RV Trip Wizard will help us determine the overall budget for our trip, accounting for the RV specifics we input as well as the average cost of gas. We can search for gas stations and restaurants along the way, in addition to points of interest. When road tripping, it is essential to find uniquely odd and quirky attractions, after all.
Campsite information through RV Trip Wizard is very detailed. For instance, we plan to search for highly rated pet-friendly sites. (RV Trip Wizard has recently partnered with RV Park Reviews that has a large database of trusted campsite reviews.) If we become members of any camping clubs, search results can reflect this preference. There is even information about low clearance bridges on the way so that we can avoid the RV appearing like an open sardine can when we reach our destination. Once the route is planned, we will import it to Google Maps and access it through our iPhone. If we need to make changes to our trip, like an unplanned restroom break, the itinerary is easily updated.
My husband and I are eager to give RV Trip Wizard a test drive. The website offers a free demo to potential customers. Visit rvtripwizard.com for more details about features and to access the demo.