2017 Senior Expo – serving seniors and their families
May 1, 2017
/
/
Comments Off

on 2017 Senior Expo – serving seniors and their families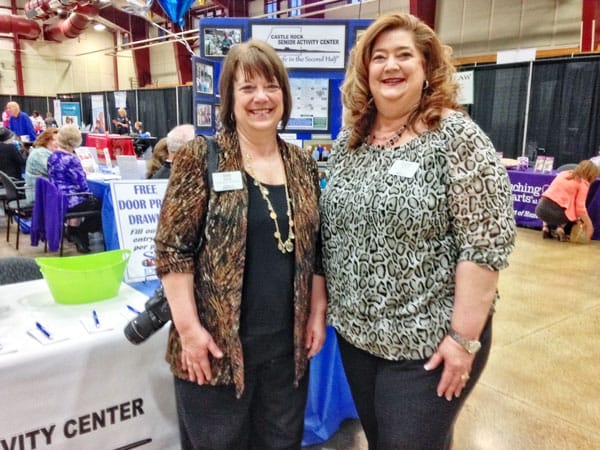 Deb Santy, assistant director of the Castle Rock Senior Activity Center (right) with Executive Director Debbi Haynie. The Castle Rock Senior Activity Center was instrumental in organizing the past three Senior Expos.
An incredible amount of planning and dedication by the staff of the Castle Rock Senior Activity Center (CRSAC), as well as many other organizations and senior advocates, made the 2017 Senior Expo at the Douglas County Events Center a big success. This is what a great community is about – reaching out to provide much needed information to seniors and their families.
With 70 senior services booths from all over Douglas County and partners from the Denver metro area, various service providers and businesses under one roof made it easy for individuals and families to gather information, pick up brochures and get contacts for current and future needs. Twelve seminars representing a wide variety of topics of interest were presented at the expo – Navigating the Senior Maze, How to Keep Your Mind Fit, Advancements in Hearing Loss and The Truth About Reverse Mortgages, to name a few.
Attendees came from Parker, Castle Pines, Elizabeth, Sedalia, and other surrounding Castle Rock areas. One gentleman stated, "I came to get some information on Medicare, and I got exactly what I needed; it was well worth the trip." A very relieved woman learned that she could be cremated and buried with her husband who was interred at Fort Logan National Cemetery. She had worried about this and was now smiling, knowing she could pass this information on to her children.
"The expo is a good way for families with aging parents to begin the discussion of getting help at home, moving into a facility, or perhaps the need for hearing aids," explained Deb Santy, assistant director of CRSAC. "Tough issues such as hospice and funeral planning are less intimidating when talking with representatives at the expo."
"When the first small expo was held in 2015 at the CRSAC, senior advocates immediately started reaching out to us wanting to be included in the expo," explained Santy. "The number of attendees that first year was much larger than we expected, and with the little promotion we did that year, we realized how important the need was for this type of event in our area. In 2016, we took a big risk and held the expo at the Douglas County Events Center."
CRSAC Executive Director Debbi Haynie emphasized, "I know these senior advocates who partner with us truly care about seniors. It's what sets this outreach event apart from others. It was so heartwarming to see situations where one partnering organization unable to answer a question for a visitor would walk them over to another booth so they received the assistance they needed."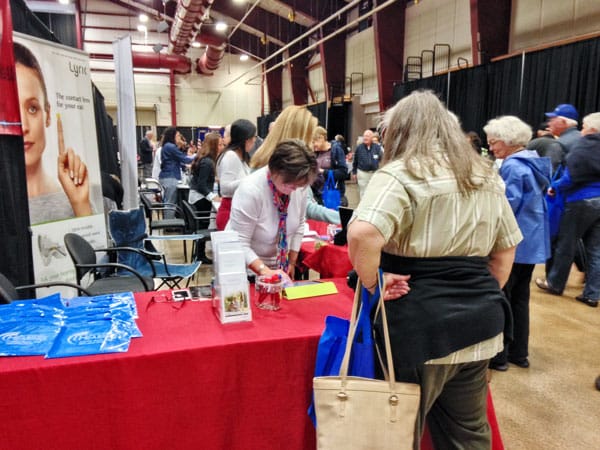 Seniors and families attended the 2017 Senior Expo to gather important information on various senior topics and to attend educational seminars.
Both Santy and Haynie agree that the message to seniors and families is that help is available. "More and more programs and services can help seniors stay independent, take them to whatever the next stage or life is, and to live their lives with the dignity they deserve."
Kudos to the Castle Rock Senior Activity Center and its 2017 Senior Expo partners whose goal is to make life better for seniors and to help them live life to the fullest, no matter what their age.