A taste of… Uniscali Modern Italian
November 1, 2011
/
/
Comments Off

on A taste of… Uniscali Modern Italian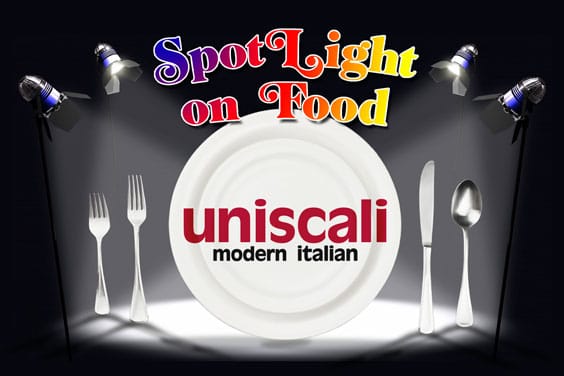 by Liane Marette Davis
Remember the commercial with a woman standing outside a department store tapping on the glass peeking in, all the while saying, "Open, open, open?" You might find yourself doing the same at the door of Uniscali Modern Italian once you have a taste of its delicious cuisine.
Walking through the door of Uniscali you will likely be greeted by one of the owners, Dennis or Christina Dickey or chef/owner Kim Heideman. Meaning "join us" in Italian, Uniscali is warm and welcoming, sophisticated and comfortable. It's a classy, cool modern restaurant with an upbeat, friendly atmosphere.
The menu is modern Italian with a blend of Mediterranean. Grab a seat and cozy up to the chef's counter where you can watch them prepare the fabulous feasts and interact with the crew. Meet a new friend at the community table or relax in the dining room. The phenomenal dishes, gracious staff, great service, and right prices will have you coming back for more and more and more. You will wish they were open every day and not just for dinner.
To begin, try any of the "little plates." With so many to choose from, your taste buds will be more than satisfied. To name a few of the top choices, the Brussel Sprouts (not the ones you hid under your plate as a kid), Tenderloin Bruschetta, Italian Egg Rolls, Italian Mac and Cheese, Risotto Fritters, Panzanella Salad, Garlicky Shrimp, and last but not least – the Caesar Salad (with grilled romaine).
For the main course, choose from the "big plates" or "pasta plates", like the signature dish, Cioppino (spicy broth filled with a seasonal selection or shrimp, crab, mussels and fish); the mouth-watering Beef Tenderloin that is Tuscan spiced rubbed and grilled and served with potato parsnip puree and a Chianti veal reduction; or the Free Form Lasagna with grilled chicken in a mushroom marsala sauce and four cheese cream.
Feel like trying a bit of everything all while enjoying a night out? Happy hour at Uniscali is Thursday through Saturday, 4 p.m. to 6 p.m. and offers a great selection of little plates at a smaller price, as well as drinks. They offer $3 Belinis, $5 Quartinos and $3 beers. Sip their limoncello (aged eighty days), which is 100-proof vodka, simple syrup and lemon slices.
Uniscali is located at 611 North Wilcox Street in Castle Rock. Hours of operation are: Dinner, Thursday through Saturday from 4 p.m. to 9 p.m. and happy hour, Thursday through Saturday from 4 p.m. to 6 p.m. Reservations are recommended.
For more information regarding the menu, takeout, catering, or for private parties, call 303-660-2005 or visit www.uniscali.com.