Be the first to help us congratulate …
July 1, 2016
/
/
Comments Off

on Be the first to help us congratulate …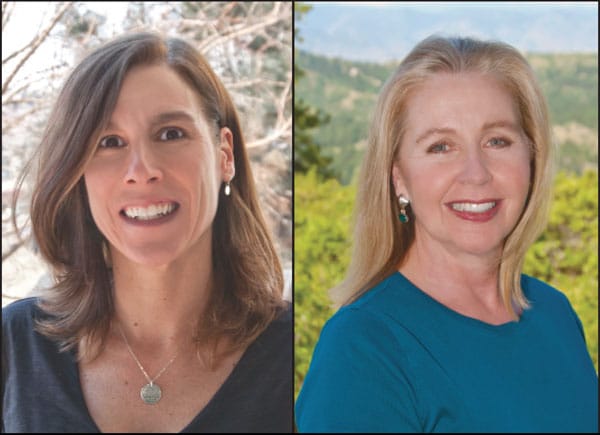 At left, Lynne Marsala Basche, newly appointed Castle Pines Connection managing editor and, at right, Elizabeth Wood West, Castle Pines Connection advertising sales manager.
By Terri Wiebold; photos by Tim Gamble
The Castle Pines Connection is thrilled to welcome Lynne Marsala Basche as our new managing editor and Elizabeth Wood West as our new advertising sales manager. Both positions were created to enable these accomplished ladies to grow with the organization they have helped to flourish.
Lynne joined The Castle Pines Connection team as a staff writer in October 2012 after a 20-year career at two New York publishing companies as a senior editor and project manager. She has a bachelor's degree in English and communications. Lynne writes The Connection's Food Spotlight segment and manages our social media outreach. She is taking on the responsibilities as managing editor with great fervor and brings many fresh and creative ideas to the table.
In addition to writing for The Connection, Lynne is a freelance writer/editor, contributing to several corporate communications projects. A 13-year resident of Castle Pines, Lynne lives with her husband and son.
While her passions change with the seasons, Lynne loves being outdoors, cooking and reading, and she is an enthusiastic downhill skiing novice. Lynne can be reached at lmarsalabasche@castlepinesconnectioncom.
Elizabeth (Liz) joined The Castle Pines Connection team in August 2009 and is a staff writer and advertising sales manager. She holds a degree in interior design and owned her own design firm; she also has an extensive business and legal background.
Liz will be working with our advertising account managers to strengthen the valued business and community partnerships we maintain, as well as develop new relationships with our organization.
Liz grew up in Douglas County and has been involved in the community for many years. She and her family reside in Happy Canyon and enjoy family, church, vacations to Florida's Gulf coast, and the outdoor beauty of Colorado. Liz can be reached at lwest@castlepinesconnection.com.
As publisher of The Castle Pines Connection, I couldn't be more excited about working closely with these two exceptional ladies. As always, we welcome feedback about how we are doing at editor@castlepinsconnection.com.