Castle Pines Village tennis does it again!
September 1, 2015
/
/
Comments Off

on Castle Pines Village tennis does it again!
The CPV Ladies 3.5 Red team (two photos above) is all grins right after their state championship win on August 2! Congratulations to the entire team — Jill Skinner, Liz Zeller, Stacia Novak, Karen Lang-Pluto, Diane David, Deb Rubida, Biz Hansen, Britney Anderson, Mary Elizabeth Lowen, Anthea Gerberg, Linda Hanson, Karin Miller and Mary Walker.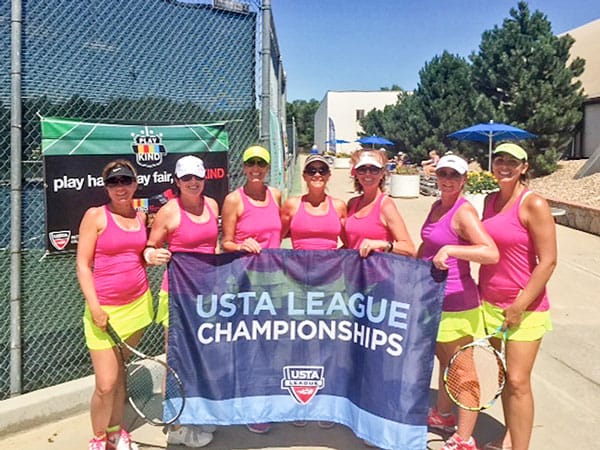 Congratulations are in order for team captain Lisa Wiggins and co-captain Courtney Mendell and team members Beth Markowski, Natalie Vickers, Penny Spencer, Jennifer Patterson, Tanya Hunter, Christine Thelen, Tracey McCarthy, Linda Battin and Gina Lurie.

By Elean Gersack; photos courtesy of Biz Hansen and Larry Bundy
Tennis in Castle Pines Village (CPV) just keeps getting better. The CPV Ladies 3.5 Red team, captained by Diane David and Karen Lang, won state during district championships against Bow Mar on August 2 at Colorado Athletic Club Monaco.

The match was tied 2-2 with doubles team Mary Elizabeth Lowen and Britney Anderson still on the court. After being down 5-9 in the third set tiebreak, the duo came back to pull off a miraculous 11-9 win to cement the team's championship victory. "It was awesome, but I never want to be in that position again!" said Lowen.
The team headed to Salt Lake City to represent Colorado against the same level state champions from Utah, Nevada, Wyoming, Montana and Idaho during the August 21-23 weekend. Check the Castle Pines Connection Facebook page to see how they placed at sectionals – they were sure to have a great time playing.

The Castle Pines Village 2.5 CTA Women's Daytime Doubles Green team also won the Colorado District Championship on August 12 by defeating three other division winners. In order to qualify for the District competition, they won the Southeast Division consisting of eight teams.
Fourteen teams are still competing for league titles as the 2015 tennis competition comes to a close in mid-September.