Castle Rock Lowe's welcomes new store manager
October 1, 2011
/
/
Comments Off

on Castle Rock Lowe's welcomes new store manager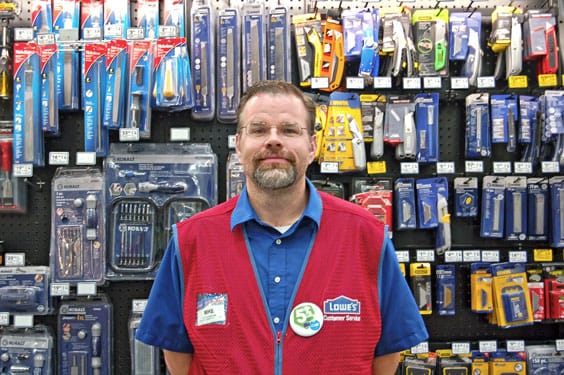 Castle Rock Lowe's store manager, Mike McGinley
Article and photo by Amy Shanahan
If you need a helping hand while shopping at Lowe's in Castle Rock, Mike McGinley is happy to help. McGinley was recently named the new store manager and he is excited to be a part of this community.
McGinley, born and raised in Tucson, Arizona attended the University of Arizona and Arizona State University, and studied mechanical engineering. Following college he chose to pursue a career in home improvement retail, and worked at The Home Depot for ten years, beginning as a lot attendant and working his way up to assistant manager.
In 2004, McGinley began his career with Lowe's as an assistant store manager, and was recently promoted to store manager and given charge of his own store in Castle Rock.
"This is my first store manager position and it is an awesome store!" said McGinley, "The associates at my store are well trained and very good at what they do. I am very fortunate to have this team as my first assignment, as they have made the transition to store manager much easier."
McGinley has been married to his wife Susan for ten years, and he is the proud father of two children (a third daughter is deceased). His family has called Tucson, Arizona home, and has never experienced a cold weather winter – although they are excited by the prospect.
"I am sure that it will be an adventure," remarked McGinley. The family is enjoying Colorado and all that it has to offer, and they plan to make this their home for many years to come."
"I have really enjoyed my tenure at Lowe's thus far." McGinley went on to say, "Although it is similar to The Home Depot in terms of products sold, the structure is entirely different in its approach to managing people. Lowe's prides itself on its commitment to its employees. We realize that great people are the foundation to our business and success."
Lowe's Castle Rock is located at 1360 New Beale Street, across from the Outlets.
For additional information, go to www.lowes.com. Be sure to say hello to Mike on your next visit!