City Plans Old-Fashioned Independence Day Celebration
June 1, 2008
/
/
Comments Off

on City Plans Old-Fashioned Independence Day Celebration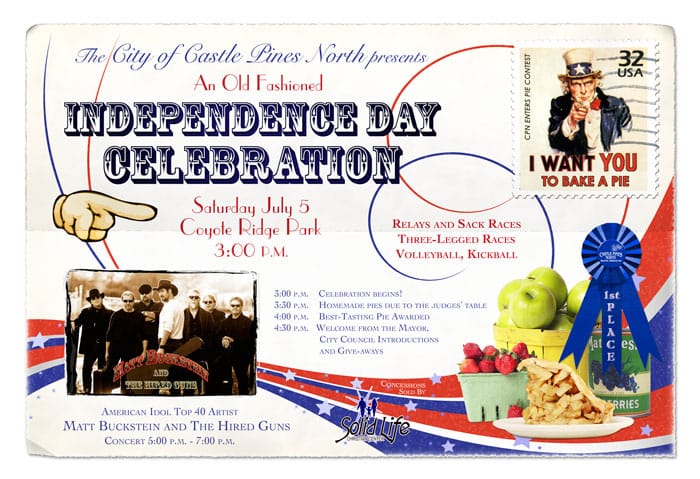 by Elean Gersack
The City of Castle Pines North (CPN) and the CPN Master Association are planning an old fashioned Independence Day celebration for the entire community. The celebration is planned for Saturday, July 5, beginning at 3 p.m. at Coyote Ridge Park. This first time City of CPN event is sure to delight the young and the young at heart.
Bring the whole family and enjoy an afternoon full of fun with sack races, relays, three-legged races, volleyball, kickball and more. Bake a fabulous fruit pie of any kind and enter it in the pie-tasting contest at 3:30 p.m. City Council members will have a taste and award a prize for the best tasting homemade pie.
Starting at 4:30 p.m., patriotic music will play and the mayor of CPN, Maureen Shul, will introduce city council members, welcome a guest speaker, and give away a number of prizes.
"It is an honor and thrill to have our new city come together to celebrate our nation and our new city in such a meaningful, old-fashioned, fun way," said Shul.
To cap off the evening, Matt Buckstein and The Hired Guns will perform a concert from 5 p.m. to 7 p.m. This country band is led by a former American Idol top 40 artist who shares a voice style similar to that of country music star Trace Adkins. For more information about Matt Buckstein and the Hired Guns, please visit www.mattbuckstein.com.
Throughout the celebration, Solid Life Christian Center will host a concession stand selling hot dogs, chips, drinks, giant-size pickles, cotton candy, and watermelon. In the event of inclement weather, please visit the CPN website at www.cpnhoa.org.
Schedule of Events:
Saturday, July 5
Coyote Ridge Park
3:00 p.m.
Celebration begins!
3:30 p.m.
Homemade pies due to the judges' table
4:00 p.m.
Best Tasting Pie Awarded
4:30 p.m. – 5:00 p.m.
Welcome from the Mayor, City Council Introductions, and give-aways
5:00 p.m. – 7 :00 p.m.
Matt Buckstein and the Hired Guns perform
Enjoy concessions from Solid Life Christian Center throughout the celebration.