September 1, 2022
/
/
Comments Off

on Cookies for Breakfast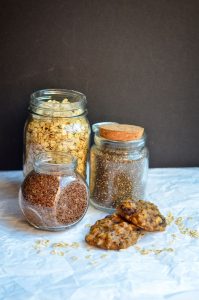 September is here and the craziness of school, work, and extra curriculars is in full swing. If there is ever a time when I need a dietary power boost, September is the time. Every day seems to start a little earlier than I want, with not quite enough time to get everything done. After the leisure of summer, it's a shock to the system that calls for extreme dietary measures.
As much as I love a long, indulgent breakfast, September simply doesn't allow for that. If I can't grab it and go, I'm not having it. Most days, I don't even have a moment to warm something in the microwave, much less actually cook, so I often make do with dry cereal in a plastic bag while I drive. It's not exactly the healthy setup I want for the day, but many of the alternatives that are easy to grab (fancy protein bars in particular) are simultaneously expensive and non-delicious. The recipe I share here is a tastier alternative that can be made for a fraction of the price and tastes much, much better.
These cookies are packed with protein and fiber, owing largely to the chia seed and flax seed. Both of these ingredients are so-called "superfoods" and easily available at the grocery store. Chia seeds in particular can be unpleasantly chewy when they are dry, so this recipe calls for a 15-minute rest to give the seeds time to absorb some of the dough's moisture. Rolled oats make the cookies pleasantly filling, and a judicious amount of semisweet chocolate give them a decadent touch. In short, these taste like dessert but are surprisingly nutrient-dense.
When I started tinkering with this idea (what you see here is sort of a mash-up of several recipes I experimented with), I happened to have a jar of natural peanut butter that needed to be used up, so that's what I've included here. I strongly suspect that almond butter, cashew butter, or even sunflower butter would work well too, but since they tend to have a slightly runnier consistency than peanut butter, you may need to add an extra tablespoon or two of oatmeal to hold the mixture together. The banana adds sweetness to the cookies and the flavor is a lovely compliment to the peanut butter sandwich that takes me back to the brown-bag lunches of my childhood.
These beauties come together in a flash, so stirring up a batch in the evening and then leaving them on the counter for easy access in the morning is a realistic idea. They can be quickly eaten and are suitable for consumption on the move. If you can make it work, they're also really delicious with a tall glass of milk, or any number of warm beverages, which might make it worthwhile to set the alarm 10 minutes earlier to sit and just enjoy. Even in September.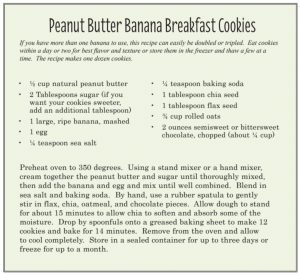 If you have more than one banana to use, this recipe can easily be doubled or tripled. Eat cookies within a day or two for best flavor and texture or store them in the freezer and thaw a few at a time. The recipe makes one dozen cookies.
½ cup natural peanut butter
2 Tablespoons sugar (if you want your cookies sweeter, add an additional tablespoon)
1 large, ripe banana, mashed
1 egg
¼ teaspoon sea salt
¼ teaspoon baking soda
1 tablespoon chia seed
1 tablespoon flax seed
¾ cup rolled oats
2 ounces semisweet or bittersweet chocolate, chopped (about ¼ cup)
Preheat oven to 350 degrees. Using a stand mixer or a hand mixer, cream together the peanut butter and sugar until thoroughly mixed, then add the banana and egg and mix until well combined. Blend in sea salt and baking soda. By hand, use a rubber spatula to gently stir in flax, chia, oatmeal, and chocolate pieces. Allow dough to stand for about 15 minutes to allow chia to soften and absorb some of the moisture. Drop by spoonfuls onto a greased baking sheet to make 12 cookies and bake for 14 minutes. Remove from the oven and allow to cool completely. Store in a sealed container for up to three days or freeze for up to a month.
Article and photo by Lisa Crockett