CPACF and Missoula Theatre bring "Aladdin" to Castle Pines
August 1, 2016
/
/
Comments Off

on CPACF and Missoula Theatre bring "Aladdin" to Castle Pines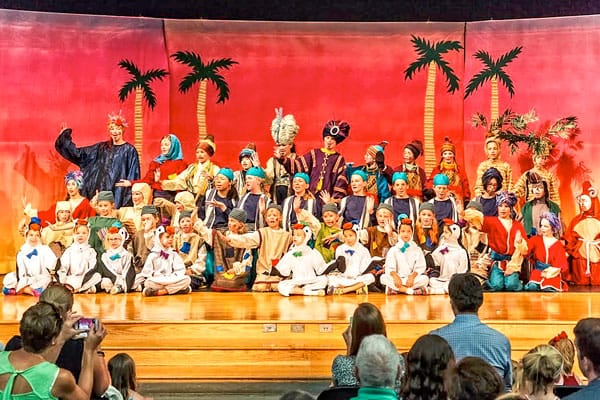 Special thanks to the Castle Pines Arts and Cultural Foundation for bringing Aladdin to the community this year.

By Elean Gersack; photos courtesy of Dave Tweed
A magic carpet arrived in Castle Pines on July 11 and took kids on a week-long journey. Starting with auditions and ending with two full-scale musical productions, more than 50 children took part in the Missoula Children's Theatre (MCT) production of "Aladdin." The shows were held on July 16 at Rocky Heights Middle School.
The MCT annual productions have become a constant in the community thanks to the Castle Pines Arts & Cultural Foundation (CPACF) who organizes and sponsors these events. The CPACF is dedicated to supporting children and the arts in Castle Pines.
According to CPACF board member Cheryl McGovern, the Aladdin tale featured a swirling sandstorm of famous Arabian tales from AliBaba to Scheherazade, and even Sinbad the Sailor, as Aladdin journeyed to find a magic lamp. Along the way Aladdin, played by Griffin Toole, encountered a cast of characters that included genies, a princess, lost penguins, camels, palm trees, vagabonds and others.
"In just six days, Missoula Children's Theatre tour actor/directors Molly Malady and Justin Reese Brooks worked with the kids to create a full- scale musical production of Aladdin. The MCT directors traveled with everything needed, including costumes, sets, make-up, scripts and music to make this theatrical miracle happen!" shared McGovern.
Parents and children alike shared rave reviews about the experience. To learn more about the CPACF, visit castlepinesarts.org. To learn more about MCT, visit mctinc.org.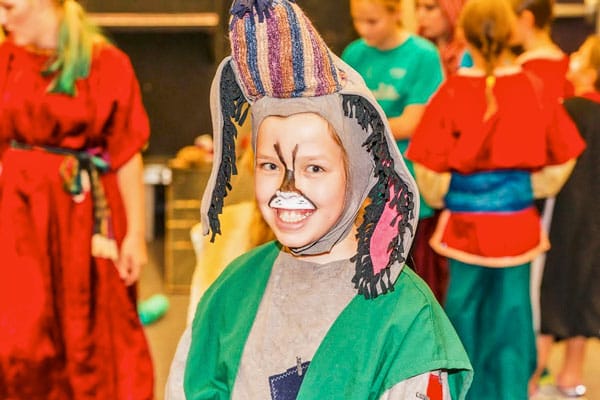 Abigail Rausch (11) played the part of a donkey in the Missoula Children's Theatre production of Aladdin.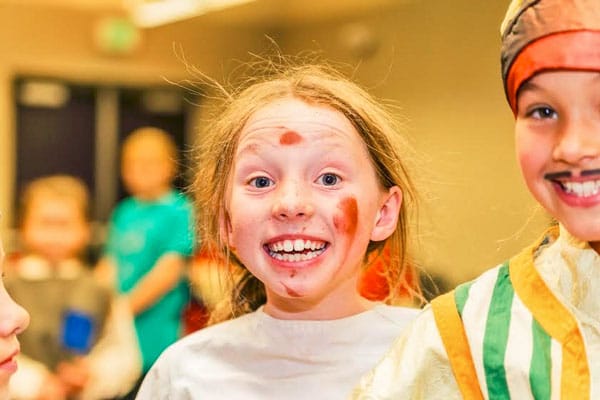 Excited to play a vagabond in the production of Aladdin, Cassie Kellen (9) heads for the stage all smiles.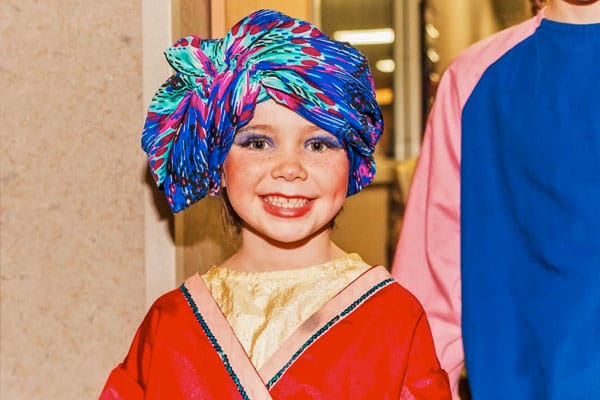 Kyra Bruce (7) was magic in her role as a genie.