September 1, 2012
/
/
Comments Off

on DCSM slips into fall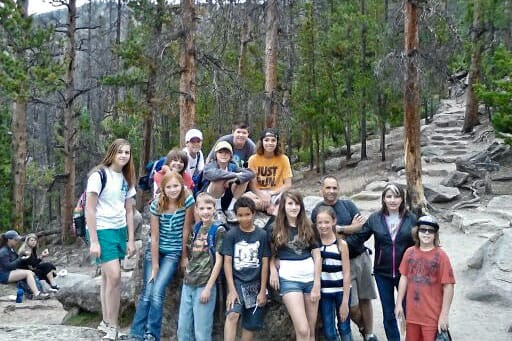 DCSM's first ever seventh grade class hit the mountains last month for an adventure in outdoor education at YMCA of the Rockies in Estes Park.
By Jodi Anderson
Each school year is unique and brings its own joys and challenges, but this year DCS Montessori (DCSM) is overflowing with excitement and energy. As our new and former pre-schoolers through sixth graders begin this new adventure, DCSM also has a class of pioneers.
This year marks the launch of the first middle school class at DCSM. With seventh grade only for its inaugural year, next year will see the expansion to include eighth grade, as well. Wagons ho, Pioneers! You are setting the foundation for the years to come.
Mark your calendars for Friday, September 14, as our Fun Run will be on that day. Each class participates to raise money for important programs at DCSM while exploring teamwork, community, and healthy lifestyle choices while running for a great cause.
On Friday, September 28, the fun continues when DCSM holds its annual Fall Festival. As always, the entire Castle Pines community is invited to join us! For more information, visit www.DCSMontessori.org.