DCSO Community Safety Volunteers Graduate
May 1, 2009
/
/
Comments Off

on DCSO Community Safety Volunteers Graduate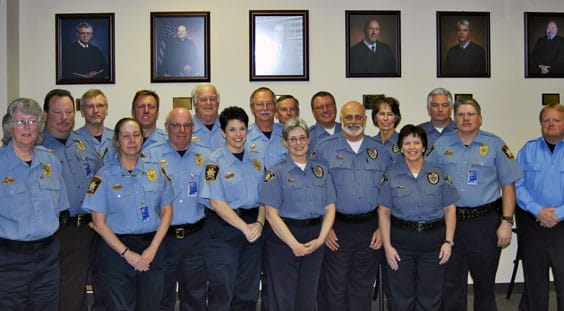 Submitted by Deputy Cocha Heyden
Public Information Officer
Douglas County Sheriff's Office
303-660-7586
Douglas County Sheriff's Office Graduates 4th Class of Community Safety Volunteers, 2nd class to include volunteers that will serve the Lone Tree and Castle Rock Police Departments
Douglas County Sheriff Dave Weaver, Lone Tree Police Chief Steve Hasler, Lone Tree Mayor Jim Gunning, and Castle Rock Police Lieutenant Doug Ernst were on hand to congratulate the 18 new Community Safety Volunteers. These graduates are a welcome addition the almost 50 volunteers already in the program. The graduation ceremony was held on May 14, 2009, at the Robert A. Christensen Justice Center in Castle Rock, CO.
This is the 4th class to graduate since the inception of the program in 2006, and the 2nd class to combine volunteers that will benefit not only the Sheriff's Office but also the Lone Tree and Castle Rock Police Departments. "We are very excited about how well the CSV program is being received in the other jurisdictions. Lone Tree Police Chief Steve Hasler and Castle Rock Police Chief Tony Lane see the value in the volunteers and the results are evident", stated Sheriff Weaver.
The Community Safety Volunteer Program involves civilian volunteers who have an interest in law enforcement and want to assist their respective law enforcement agencies by providing services to the community in those areas that do not require the attention of a sworn officer. Volunteers are required to attend regular training sessions and often give presentations on crime prevention, assist with traffic control, complete reports, and handle calls that do not require a sworn officer. Volunteers who do not wish to drive or respond to "calls" may handle the same types of duties in an office setting making this program suitable for all ages. Some volunteers may qualify for the Senior Tax Work off Program.
Each graduate must now complete a 40 hour field training program.
The following volunteers will be working with the:
Sheriff's Office: Steve Clem, Darren Duerksen, Judy Gray, Shirely Henderson, Fred Jaeger,
Jill Jaltuch, Frank Keith, Lonnie Kendall, Dennis Meidal, David Sparks, Bradford Williams
Castle Rock PD: Jeff Johnston
Lone Tree PD: Patricia Broome, Joy Gunderson, Mark Hockenberg, Lawrence Klassen, Sandra Klassen, John Vizzi
Check out the Sheriff's Office website, www.dcsheriff.net, in the next few months for information on the next academy class.