Family game night at a whole new level
February 1, 2012
/
/
Comments Off

on Family game night at a whole new level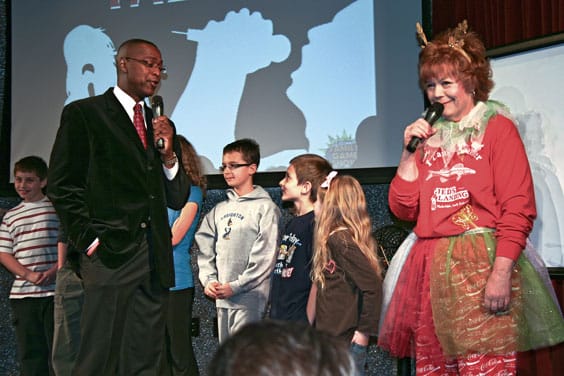 Host, Sam Adams and Lorrie Jingle Bell have some fun with the kids as they get up on stage for the Who's Got Talent portion of the show on December 23.
Article and photos by Kathy Dunker
Looking for a reason to get off the couch and have some good old fashioned family fun? Comedy Works South at the Landmark has put together a series of family-friendly events for parents and kids of all ages to break out of the house and get some G-Rated entertainment.
The December 23 event, the Ultimate Family Game Show, was hosted by Sam Adams with a little help from Lorrie Jingle Bell the game show fairy. The night consisted of five audience participation games, including the Last Family Standing, Who's Got Talent, Family Battlegories, Who Wants to Win a Prize, and the new Cha Cha Cha game also known as Who Has Dance Fever. Many laughs were had and prizes were given away to the lucky winners, such as a free four pack to the Denver Aquarium.
So if you're up on your trivia, love to dance, or just want to have an enjoyable night out with the kids, head to Comedy Works for their next Family Game Night, which will be held on Sunday, February 26 at 6 p.m. Tickets for the show are $12 for adults and $8 for kids 12 and younger.
February at Comedy Works will also include the world premiere of Conjure, an all-ages magic show. This show will feature the "Handsome Little Devils" who use their storytelling style to perform some amazing illusions. Conjure will be held at 6 p.m. on Sunday, February 19. Tickets for Conjure are $15 for adults and $10 for kids 12 and younger.
Amy Howard from Comedy Works remarked, "We are so busy at Comedy Works putting together our family friendly shows! The support and interest from families has been amazing!"
To find out more or to purchase tickets online, visit www.comedyworks.com.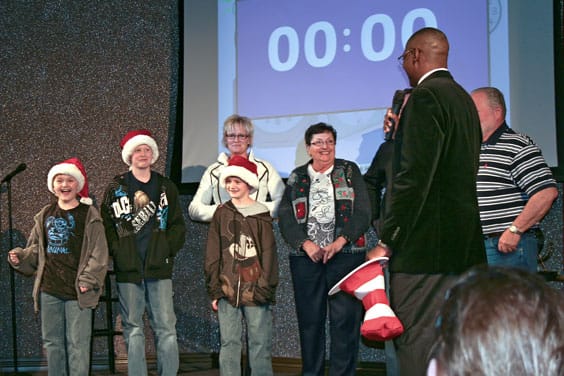 One family tries their luck at Family Battlegories at Comedy Works South in the Landmark.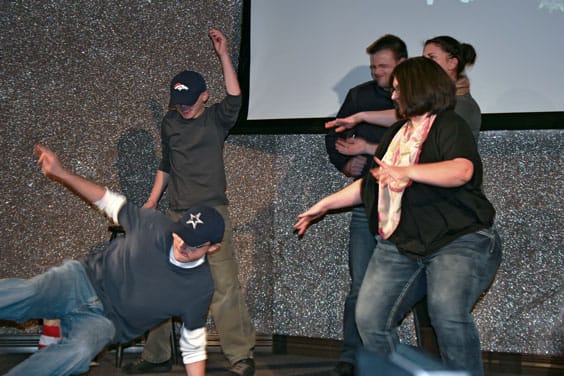 This teenager shows his dance fever as he breaks into break dancing for the Cha Cha Cha competition at the Ultimate Family Game Show.