God's Grace serving the community
February 1, 2010
/
/
Comments Off

on God's Grace serving the community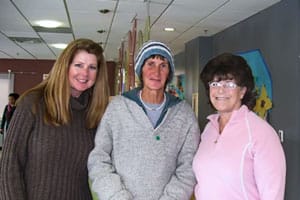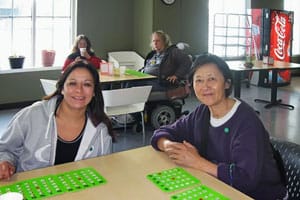 Information and photos submitted by Claudia Larson
There are few resources for women and children who are experiencing poverty and homelessness. God's Grace Community Church (GGCC) is pleased to partner with Denver's only day shelter, The Gathering Place (TGP). GGCC hosts a monthly Bingo game to spend time with the women, offer a little fun diversion, and award practical prizes.
TGP was founded in 1986 by two graduate students from the University of Denver. They interned at homeless shelters in the Denver area and observed that homeless women and children had to leave the safety of the shelter to return to the harsh realities of the streets, needing a safe place to go during the day.
With a $6,000 grant, they created TGP, a one room facility on Santa Fe Drive, offering women and children warmth and protection from the streets and nutritious meals. In 1990, the facility moved to its current location at 1535 High St. A new facility was built on the old site and opened in September 2007. TGP has served more than 700,000 women and presently serves an average of 400 women and children Monday through Friday.
GGCC supports TGP with donations of toiletries and food. To learn more about how GGCC serves the world locally and globally, go to www.GodsGraceCC.com