Halloween happenings for fun or fright
October 1, 2019
/
/
Comments Off

on Halloween happenings for fun or fright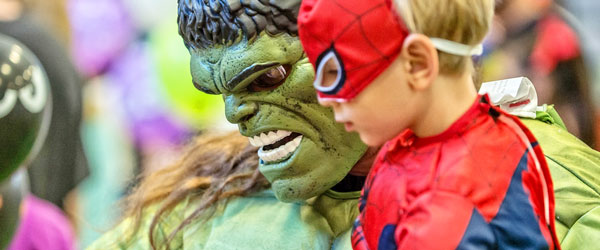 Spooktacular costumes during last year's Spooktacular event.

By Patte Smith; courtesy photo
Fun and not at all frightening, the annual Castle Pines Chamber of Commerce Trick or Treat Street in Castle Pines is a kid favorite every year. In its 13th year, little ghosts and goblins in Castle Pines get to trick or treat for candy and special prizes at all of the participating businesses along Castle Pines Parkway and in the shops located in The Village at Castle Pines at 858 W. Happy Canyon Road. On October 27 from 10 a.m. to 2 p.m, look for the businesses with a pumpkin in their window. For more information, visit www.castlepineschamber.com.
Carefully open the gates of the Haunted Forest if you dare. For two nights, Friday, October 18 and Saturday, October 19, brave souls ages 10 and older can creep through the eerie forest behind Rocky Heights Middle School (RHMS) in Highlands Ranch where ghouls and ghosts appear behind every tree and bush. For those who can face the fear, visit https://hrcaonline.org/about-us/guides-communication/calendar-schedules/event-details/evr/1/haunted-forest-1 to purchase tickets. Tickets are $13 and can also be purchased at any Highlands Ranch community recreation center or at the terrifying gate to horror at RHMS. The Haunted Forest will be open from 6:30 p.m. to 10:00 p.m.
On the lighter side of the Halloween season, Spooktacular, at the Philip S. Miller Park in Castle Rock will be on Saturday, October 26 from noon until 4 p.m. This is a safe and fun family event for children where kids can come dressed in their Halloween costumes (no gruesome costumes or those with weaponry are allowed). There will be games, bounce houses, face painting, prizes and yummy food and candy. There are three specific times for groups of children to enjoy the events, and sensory-friendly activities are also provided. For more information about event times, visit www.crgov.com/2453/spooktacular.
Saturday, October 27, join a Walking Tour of Bear Canon Cemetery in Sedalia, which was founded in 1872. Many pioneers of the area were buried on this land, and participants will learn the local lore and history. The tour is free and will begin at 5 p.m. Refreshments will be served after the tour. For more information, visit www.castlerockhistoricalsociety.org/calendar/.
Fieldhouse Fright Night, on Saturday, October 26 will feature ominous ghastly ghouls, spooky spirits and wicked witches converging at the Parker Fieldhouse. From 5:30 to 9:00 p.m. There will be a Trick-or-Treat Street, Spook Skate in the rink (must bring your own skates), zombies in the Haunted House, Rock'n Halloween Climbing Wall and family costume contest. Register at https://apm.activecommunities.com/parkerparksandrecreation/Activity_Search/fieldhouse-fright-night/14112.
Creepy Crawlies at the Rock will feature snakes, spiders, toads, owls and hissing cockroaches eyeballing kids and parents as the kids and parents scrutinize the crawlies' every move. This is a free family-friendly program presented by the Town of Castle Rock in partnership with Douglas Land Conservancy. Examine these amazing creatures on Saturday, October 12 from 1 p.m. to 3 p.m. at Festival Park in Castle Rock. Registration is encouraged but not required, and walk-ins are welcome. Donations to Douglas Land Conservancy are suggested at $10 per person or $20 per family. For more information, visit www.crgov.com/2722/Animals-Around-the-Rock.
On Sunday, October 20, at Salisbury Equestrian Park in Parker, Horses in Masquerade will feature costume contests for horses and their owners of any age. The entertaining day will include gymkhana events, such as barrels, poles, flag race, speed ball and scramble. Enjoy the festooned horses and riders, while participating in a silent auction and giveaways, tasting great food and horsing around. The event is free. For more information, visit https://sweetheartsofthewest.com/horses-in-masquerade.