Headed to the principal's office at Rock Canyon High School
August 1, 2011
/
/
Comments Off

on Headed to the principal's office at Rock Canyon High School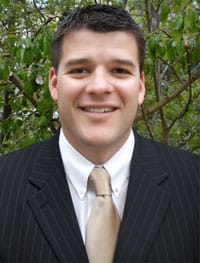 Andrew Abner, Principal, Rock Canyon High School
by Kathy Dunker with photo courtesy of Andrew Abner
A new face will be seen in the principal's office at Rock Canyon High School (RCHS) this fall. As of July 1, Andrew Abner replaced Kim Rauh in leading the school's administration. Rauh will now be the principal of Cheorkee Trail High School in the Cherry Creek School District.
Abner graduated from Illinois State University with a bachelor's degree in technology education. He also holds a master of education, with an emphasis in administration from the University of Phoenix.
Abner began his 13-year career in education as a dean's assistant followed by three years as an instructor of applied technology at Neuqua Valley High School in Illinois. Abner came to Colorado in 2002 and joined the staff at Douglas County High School as a vocational education teacher. For the past seven years, he has been an assistant principal at Douglas County High School.
Abner remarked about his new responsibilities, "As the next principal of Rock Canyon, I am looking forward to a great year with much change. We have hired for approximately 21 new positions and we are looking forward to meeting the class of 2015 on August 8. We currently have 492 freshman coming to Rock Canyon and we are certain they will make a positive impact on our school. I feel so blessed to be part of this amazing community and to bring my family into this community. I have received an amazing welcome and I have been strongly supported by so many students, parents and staff members. I cannot imagine a better place personally and professionally to be!"