April 1, 2011
/
/
Comments Off

on Herb-Crusted Leg of Lamb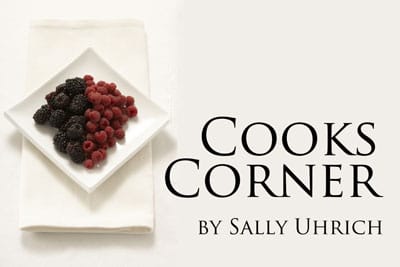 by Sally Uhrich
Although ham will probably once again be the mainstay at many dinner tables this Easter, it is lamb that is considered to be the most popular symbol at Easter. Lamb certainly plays an integral part in the Passover celebration, and is a welcome menu change for the Easter holiday.
If you wish to venture into unknown territory but have been intimidated by the idea of preparing lamb, your fears may now be put to rest, thanks to Williams and Sonoma. It has made the endeavor easy, even for novice cooks. This herb-crusted leg of lamb recipe is featured in the Williams and Sonoma cooking catalog for April.
Herb-Crusted Leg of Lamb
1 fat trimmed bone-in leg of lamb, 5 1/2-6 lb
Kosher salt and freshly ground pepper to taste
2 1/2 cups fresh bread crumbs
2 garlic cloves, minced
1/4 cup chopped fresh flat-leaf parsley
1 Tbs. Chopped fresh rosemary
1 Tbs. Chopped fresh thyme
1/4 cup olive oil
1/4 cup Dijon mustard
Pat lamb dry. Generously season with salt and pepper. Let stand at room temperature for one hour. Preheat oven to 400 degrees. In a bowl, combine bread crumbs, garlic parsley, rosemary, thyme, oil, salt and pepper. Coat lamb with mustard. Pack bread crumb mixture on underside of leg.
Place lamb, fat side up, on rack in large roasting pan. Pack remaining bread crumb mixture on top and sides of lamb. Roast 30 minutes; reduce oven to 350 degrees. Roast until instant-read thermometer inserted into thickest part of meat registers at least 130 degrees Farenheit. Roast 1 1/4 to 1 1/2 hours more for medium.
Transfer lamb to carving board; tent with foil. Let rest 20 min. Carve into thin slices; arrange on warmed platter. Serves eight.