November 1, 2010
/
/
Comments Off

on High kicks for Christmas
Sabrina (left) and Madison (right) Vachris


Article and photo by Lisa Crockett
Two girls from the Castle Pines community are getting one of the best presents of all this season: a dream come true. Madison and Sabrina Vachris, ages eleven and nine respectively, are members of the tap team at the Danza Dance Academy in Castle Rock. After a lot of hard work and some tough competition, the girls' team was selected to perform an opening act for the world-famous Rockettes at the Radio City Christmas Spectacular show at the World Arena in Colorado Springs at the end of the month.
"We auditioned with a tap number, but then when we were selected, the Rockettes sent us a jazz number, with their choreography. We've had to learn some new things and the Rockettes are all pretty much perfect, so we have had a lot of practices to be sure we're doing things right," said Madison.
As part of the audition process, the girls got to meet four members of the famous precision dance-line and get photos and autographs. "It was fun to see them in makeup and costumes," said Sabrina. "That is one of my favorite parts about dance – the costumes!"
While rehearsing, the girls have learned about synchronizing their moves, Rockettes-style, though the height differences between the girls and their teammates calls for some modifications to how the professionals do it.
"Our youngest team member is nine and the oldest fourteen, so we all aim to kick our legs 'eye-high' because it would look funny for us to all kick to the same height," said Madison.
Though both girls have been dancing since they were preschoolers, this particular experience is all new. They say they are looking forward to the excitement of performing at a larger, more glamorous venue than they are typically used to.
"Our recitals every year are at the high school auditorium and even our competitions usually have a small audience," said Madison. "This will be a new experience."
The Vachris' will be part of the opening act for the Rockettes at the Radio City Christmas Spectacular on November 24 at 4 p.m. For more information, visit www.radiocitychristmas.com/nationaltour.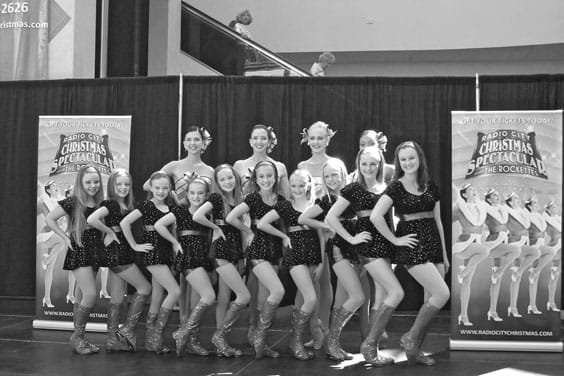 CPN residents Sabrina and Madison Vachris, along with the rest of their dance team from the Danza Dance Academy, are opening for the Rockettes at the Radio City Christmas Spectacular in Colorado Springs in November. Photo Courtesy of Danza Dance Academy