It's Always a Treasure Hunt at Village Books
April 1, 2009
/
/
Comments Off

on It's Always a Treasure Hunt at Village Books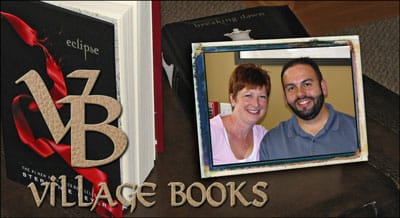 by Terri Wiebold
Transitioning from one form of "green" to another, Village Books in Castle Pines Village was borne in December, 2008. Casualties of the banking industry and the current economy, husband and wife team Steven and Stephanie Alaniz decided to turn a passion they shared into an eco-friendly business venture.
"We are the new generation of independent book store," said Steven. "My wife is a self-proclaimed 'serial reader' and she has always wanted to own a bookstore. We are trying to carry the best type of used books, and also to be green by recycling them."
Village Books has a little bit of everything, including history, mystery, fantasy, politics, religion, action, westerns, science fiction, and yes, even some romance novels. They feature an extensive Star Trek and Star Wars book collection (who knew?!) and they do carry some children's books, although they are focusing more on carving their own little niche' as a community book store that serves needs currently not being met elsewhere. "It is kind of like a treasure hunt," explains Steven. "You never know what you'll find here."
Generally speaking, hard bound books are less than $10 (unless new), and paperbacks are half off the cover price. All books are either new or in near-new condition, according to Steven. "What sets us apart is that you won't find piles and piles of worn out books stacked against the walls," he said. "We have a selection of more than 10,000 books in total, and many of them look like they have never even been
read."
Village Books welcomes book clubs and groups looking for a comfortable, casual place to gather. They handle special orders on new books and offer discounts to groups of five or more placing orders for books.
"We are waiting for the community to tell us what they want," said Steven. "We are all about personal service and we want to hear about what books you [the community] like."
Village Books is located in the Village at Castle Pines Shopping Center located on the corner of Highway 85 (Santa Fe) and Happy Canyon Road. Store hours are Tuesday through Saturday, 11 a.m. to 6 p.m.
For more information about Village Books, visit www.castlerockbooks.com or call 303-660-5386.