Neff Staffing opens in Pinnacle building
April 1, 2009
/
/
Comments Off

on Neff Staffing opens in Pinnacle building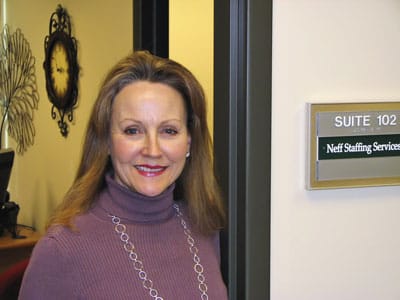 Owner Barbara Neff, photo by Terri Wiebold
As of February 2012 Neff Staffing is no longer serving the Castle Pines community.
Thank you for your past support.


Information provided by Neff Staffing Services
Neff Staffing Services opened its doors for business March 2, 2009 in Castle Pines North's new Pinnacle Building, located at 7501 Village Square Drive.
Neff Staffing Services is a full service staffing company specializing in assigning clerical and light industrial temporary employees at businesses in communities along the I-25 corridor from Lone Tree to Larkspur.
Owner Barbara Neff said she chose Castle Pines North because of the convenience to her home, the image afforded by the Pinnacle Building, and convenient access by potential employees.
"Our location just off I-25 at the Castle Pines Parkway exit is ideal for recruiting," said Neff. "Though customers typically care little about the location of a staffing service, applicants and employees appreciate ease of access because they are the more frequent visitors in a staffing office."
According to Neff, a good staffing company can be a business's best friend in tough economic times. In times of uncertainty, budget constraints and even hiring freezes, the simple and cost efficient solution to getting the work done is often a call for temporary help.
"We are a business service," Neff explains. "Our temporary employees are on our payroll. We send them out to work with our customers on an as-needed basis. Making use of our business services does not constitute a labor expense to our customers."
Neff Staffing Services utilizes meticulous hiring practices. Temporary employees must undergo stringent screening and evaluation and must have at least two years verifiable work experience before being hired. Once hired, they must also earn customers' highest marks to continue. The Neff Staffing Services guarantee to customers is unconditional.
"Staffing is a broad term," said Neff. "Many companies call themselves staffing services. But, the best in staffing service means top notch employees, ongoing quality control, careful matching of customer needs with employee skills, and an unwavering commitment to customer service. That is what we offer at Neff Staffing Services. Businesses who try us won't be disappointed."
Additional information about Neff Staffing Services can be found at www.NeffStaff.com or by calling 303-663-6855.