Local Big O Tires donates time, money
April 1, 2009
/
/
Comments Off

on Local Big O Tires donates time, money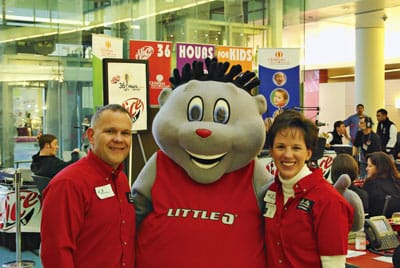 Big O repersentatives Brandon Elder (left) and Robyn McElroy with Little O (Photo by Steve Severin, Avocet Communications)

by Terri Wiebold
Castle Pines North (CPN) Big O Tires mascot, Little O, joined The Children's Miracle Network and Alice 105.9 radio station for the annual "36 Hours for Kids" event, which is a live radio broadcast from the lobby of Children's Hospital. For three straight days, the DJ's highlighted incredible stories of hope and miracles that take place right here in Colorado.
"The Children's Hospital event is such a wonderful event," said CPN Big O Tires owner Robyn McElroy. "When we went up to the hospital rooms with our Little O mascot and gave them all Little O plushes, the kids loved it," she said. "What I loved the most was when I heard a father in one of the rooms say, 'WOW, that's the biggest smile we have gotten all day!'"
According to McElroy, canisters are placed in Big O Tire stores and through generous contributions from the Big O customers and dealers, they raised $10,000 for the Children's Hospital. In addition, the store located in CPN did a special fundraiser with $1 from every oil change going to this great event. The CPN store raised $250 in just two weeks.
"I started talking to one little boy [Andrew] because of his t-shirt (pictured above). What a courageous little boy! He is in remission now from Acute Lymphoblastic Leukemia, but is still undergoing chemo," said McElroy. "His little face, and all the rest, are why we are so passionate about supporting this event."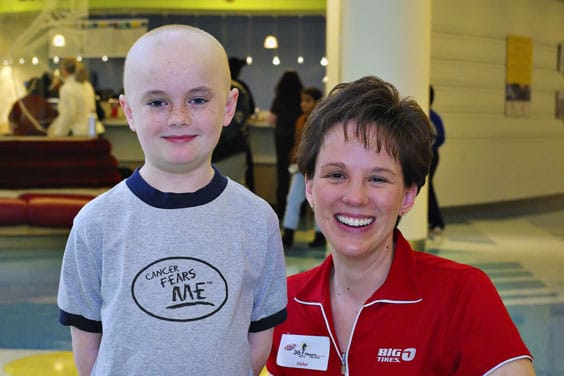 Andrew (8) and CPN Big O Tire store owner Robyn McElroy at The Children's Hospital "36 Hours for Kids" event. (Photo by BJ Eickhoff)