Kids and parents check this out!
April 1, 2013
/
/
Comments Off

on Kids and parents check this out!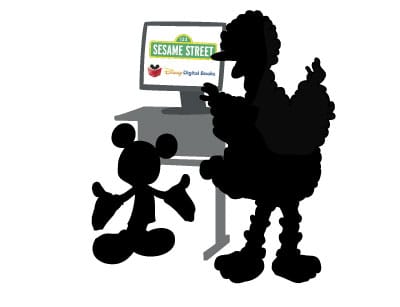 By Patte Smith
The Douglas County Libraries score big time when it comes to fun ebook reading for children. Check out the Disney Digital Books that bring favorite, classic and new stories to life for young readers. This collection of more than 600 stories includes great tales like "Sleeping Beauty," "Toy Story," "Finding Nemo," and "Aladdin" – plenty of great reads for kids and tweens.
These can be enjoyed on a Mac or PC computer and many are available without waiting. The books have interactive features to enhance the reading experience, like the "magic pen" which pronounces words with just one click, and the ability to look up word definitions without losing your place in the book. To access Disney Digital Books on the main page, click the blue downloadables button at the top right, then click "Overdrive." On the main overdrive page, look for the blue Disney Digital Books box on the lower left side (with Mickey behind a red book).
How to get to Sesame Street? Log on to DCL and find more than 100 ebooks that bring the Sesame Street characters to life! The ebooks feature audio narration, interactivity and animation. Children love these special and funny characters that make reading a great experience. They learn by counting with Elmo or learn their letters with Animal Alphabet.
TumbleBooks teach kids the joy of reading with animated and talking picture books. TumbleBooks has taken existing picture books, like "Biscuit," "Caillou," and "Diary of a Worm" and added animation, sound, music and narration in order to produce an electronic picture book which children can read, or parents can read to children. Available in English, French, Spanish and in bilingual titles, these books are iPad compatible and feature read-along chapter books, non-fiction titles and videos from National Geographic.
The library of TumbleBooks provides support to children who require skill building with a variety of exercises that can improve their reading. It also enriches the reading experience for children who are reading independently with a variety of high interest material.
For online Sesame Street and TumbleBooks, visit www.douglascountylibraries.org and on the right side of the home page click on the red eLearning tab. Scroll down and pick either one. Your library card and PIN provide access to these online resources.